Longevity Study Funded
Chemistry Professor Studies Roundworms and Manganese for Clues to Better Human Health
February 23, 2010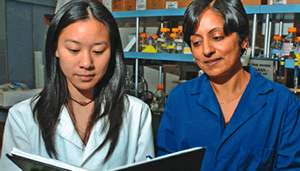 Kim Trinh, left, and Chandra Srinivasan check their data.
Chandra Srinivasan, Cal State Fullerton associate professor of chemistry and biochemistry, is working to improve human health and longevity and this month, her research received a $218,953 boost from the National Institutes of Health.
The three-year grant supports Srinivasan's study of Caenorhabdtitis elegans, a roundworm found in soil and decaying logs. She will be delving into how C. elegans, which has 40 percent of the same DNA as humans and ages in the same way, utilizes ions of the metal manganese at a molecular level in its cells.
Evidence indicates that in the roundworm manganese helps scavenge free radicals — atoms with an unstable number of electrons - preventing the atoms from causing damage. Free radicals are associated with more than 200 human diseases and accelerated aging. In some of Srinivasan's experiments, the addition of manganese in the worm's diet prolonged the their lives by more than 10 percent.
Srinivasan has studied the effects of manganese on C. elegans since 2002, the same year she joined the Cal State Fullerton faculty. She earned her doctorate in chemistry from Loyola University Chicago.