Weapons of Mass Delusions
Artist Becomes Latest Artist in Residence, Artwork Featured
April 20, 2010
From Grand Central Art Center
Grand Central Art Center is proud to host London-based artist Laurie Lipton as its 43 artist-in-residence. Lipton will reside at Grand Central Art Center through June 5 and her work will be featured in a May 1-June 13 exhibit, "Weapons of Mass Delusions."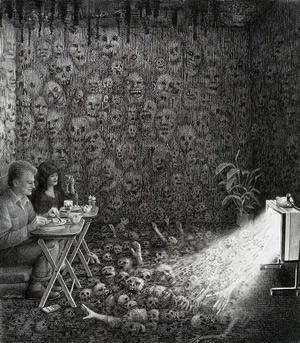 Prime Time, 2007
An opening reception will be held 7-10 p.m. Saturday, May 1, during which Lipton will sign posters and copies of her book, "The Extraordinary Drawings of Laurie Lipton." Admission is free.
Lipton grew up in New York and graduated from Carnegie-Mellon University with a fine arts degree in drawing, although she considers herself self taught. In lieu of her classes, Lipton spent hours in the university library copying Durer, Memling and Van Eyck and developing her own cross-hatching technique, building layers of charcoal and pencil, to the same luminous quality of 17th-century masters.
Lipton's work has been exhibited extensively throughout Europe and the United States; "Weapons of Mass Delusions" will be her first solo exhibition on the West Coast.
Inspired by the religious paintings of Flemish masters and the photography of Diane Arbus, Lipton's dramatic black and white images are haunting yet satirical focusing on themes of fear, sexuality, mayhem, greed and indifference.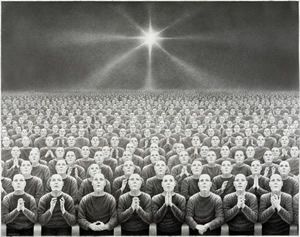 Delusion Dwellers, 2007
"I was watching the Iraq war on CNN while eating my dinner," said Lipton. "I chewed contentedly as peoples' homes and limbs were being blown apart. There was a commercial break about washing powder and new cars, then I was transported back to the bombing, the screaming women, the blood. The whole scenario suddenly struck me as obscene. How is this possible? I am comfortably eating a meal in my own home while watching horrible suffering. This is 'normal' TV viewing. I am not even being put off my food."
Her exhibition at Grand Central Art Center will showcase 15 large-scale drawings and two triptychs. As part of her residency, Lipton will produce a limited-edition etching with Watermark Print Shop, sold exclusively at Grand Central Art Center.
The Cal State Fullerton Grand Central Art Center, 125 N. Broadway, Santa Ana, is the result of a partnership between the university and the city of Santa Ana. It is a mixed residential, commercial and educational complex housing live/studio spaces for visual arts graduate students, Grand Central Gallery, Project Room, Grand Central Theater, Watermark Press, Gypsy Den Café, Rental and Sales Gallery, classrooms and computer lab, community room and computer lab, and a studio and living space dedicated to the center's international artist-in-residence program.
On,2008
The Grand Central Art Center gallery is open 11 a.m.-4 p.m. Tuesdays through Thursdays and Sundays, as well as 11 a.m.-7 p.m. Fridays and Saturdays. For more information, call 714-567-7233 or www.grandcentralartcenter.com.