Harvard Bound
Philosophy-Political Science-Psychology Major Headed for Ivy League Law School
May 4, 2010
By Mimi Ko Cruz
Updated June 8, 2010
Hector Ramos bought himself a Harvard T-shirt last summer while he was on the Cambridge campus taking part in a summer program that helps undergrads prepare for admission to law school.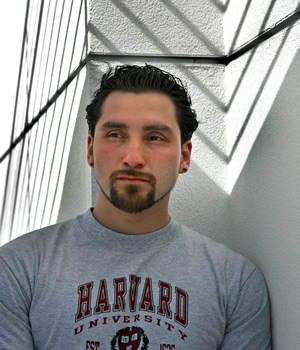 "I told myself I wouldn't wear it unless I got admitted into Harvard Law School," said Ramos, who is completing his bachelor's degree in philosophy, political science and psychology.
The magna cum laude graduate can now wear his T-shirt.
"I couldn't believe it when the admissions dean called me and said, 'Hector, I'd like to extend to you an invitation to join Harvard's class of 2013,' " Ramos said. "At first, I thought it was a joke and I started laughing, but then it hit me, and I got emotional. I still can't believe it."
The 24-year-old's professors and friends aren't surprised.
Heather D. Battaly, associate professor of philosophy, called Ramos and his accomplishments "immense."
"Hector overcomes challenges with such optimism that they cease to appear challenging," Battaly said. "In my view, he is able to do this because of his extraordinary character. He sees opportunities in the world, and works hard to achieve them. He is exactly the sort of person that we want to become an attorney. He is honest, fair, straight-forward, and he stands up for other people. I would not be surprised if he was eventually considered for a position as Justice on the Supreme Court. Whatever Hector decides to do in the future, he will do it admirably."
Added John K. Davis, assistant professor of philosophy: "Hector isn't lucky, Harvard is. Hector is one of the most eminently teachable students I've ever had; grateful for whatever he can learn, and very quick on the uptake. He just seems to engage life more fully and enthusiastically than most of us."
Ramos' remarkable accomplishments, despite growing up poor and being the first in his family to pursue higher education, are due to self-discipline, perseverance and a lot of support from his teachers, he said.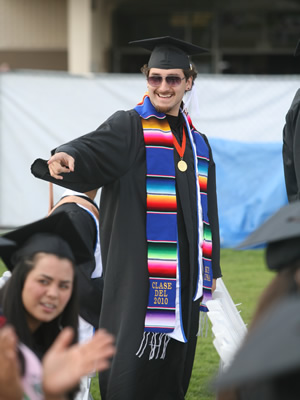 Hector Ramos
"Yes, I work hard and yes, I push myself, " Ramos said. "But, I owe a lot of people for my achievements. There were times when things got really, really hard for me but there always was someone there, supporting me and telling me I could dream big. I feel so blessed and grateful. This isn't just a victory for me. It's a victory for everyone who has helped me get here."
When he applied to 15 of the nation's top law schools, he said he'd feel lucky to get accepted at one. Then, a beautiful thing happened.
UC Berkeley called first, then Penn State, Stanford, UCLA, USC, Georgetown, Cornell, Duke, University of Michigan, Columbia, University of Massachusettes, New York University and Yale. All offered Ramos admission to their law schools, some with full scholarships. Only the University of Chicago wait-listed him.
The kid whose grades fluctuated widely in junior high and high school and didn't have college on his radar now reflects on his life.
"If it weren't for my teachers — Karen Verostek in junior high, Vickie Mull in high school and Heather Battaly, John Davis and Marcus Green here at Cal State Fullerton — I wouldn't be on the brink of success today," Ramos said. "They believed in me and went way above and beyond classroom instruction to help me and support me and tell me 'you can do more.' That's something I'll never forget."
That's why he accepts invitations to serve as a motivational speaker to high school students. He also donates blood and tutoring services and visits Alzheimer's patients on his free time. He works as an instructional aide in a special education classroom at an elementary school and also speaks before groups of aspiring college students about chasing law school dreams via hard work and determination.
His commitment, dedication and service has been awarded throughout his college years. In 2008, Ramos received the William Randolph Hearst/CSU Trustees' Award for Outstanding Achievement. He was selected for the prestigious award, which included a $10,000 scholarship, for his "superior academic performance and exemplary personal accomplishments."
Ramos, a California Governor's Scholar, also has been the recipient of the Horatio Alger National Scholarship Award and a UCLA Law Fellowship and a participant in the TRIALS (Training and Recruitment Initiative for Admission to Leading Law Schools) program, a summer scholarship program run by NYU School of Law, Harvard Law School, and the Advantage Testing Foundation.
He also took part in a four-week intensive Chinese language and culture program in Beijing.
"The program expanded my horizons and I gained a new level of open mindedness to other people and their culture," Ramos said. "It is because of our differences in perspective that we can truly learn from each another. The insight I gained from the Chinese people was invaluable."
Ramos, who grew up in Orange, was chosen this year's winner of the CSUF Philosophy Department's Paul C. Hayner Award for Outstanding Graduating Senior.
He now is getting ready for life on the East Coast, starting with a five-week stint this summer at NYU, where he will be taking part in the TRIALS program again, this time as a tutor and adviser.
After law school, Ramos said he hopes to be able to give back by helping others achieve their goals.
"I'm sure there are a lot of little Hectors out there, a little troubled, who just need a little nudge," Ramos said. "Whatever I end up doing with my degree, I want to be able to give that nudge."
A decade from now, he said, "I don't know what I'll be doing, but I can tell you three things for sure: one — I'm going to be very, very happy; two — I'll be working very, very hard; and three — I won't consider myself successful unless I'm helping others be successful too."
Related Stories: