Good Advice
Health Professions Advising Serves as Guide
June 22, 2010
By Russ Hudson
"I have referred many of my students to Cal State Fullerton because of the Health Professions Advising Office," Cal State Fullerton alumnus Thomas Bostwick said recently. "The best decision I ever made regarding medicine was there."
For nearly two decades, Bostwick has been an emergency-medicine physician in Arizona. But that almost didn't happen. What turned it for him was Cal State Fullerton's Health Professions Advising Office. He learned about it almost by accident.
As a student at UC Irvine, Bostwick (B.A. chemistry '87) was unsure of what he wanted to do and intimidated by the process of preparing for medical schools. Then a CSUF student told him about Miles McCarthy, one of the university's founding faculty members and creator of the advising office and the Health Professions Committee, which recommends top students to medical schools. Bostwick made an appointment.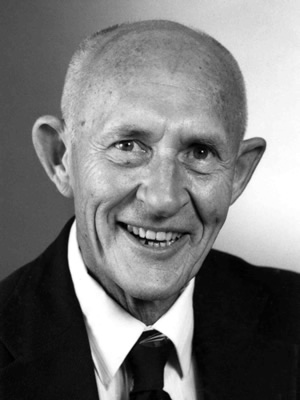 Miles McCarthy created the Health Professions Advising Office to help Cal State Fullerton Students enter medical schools.
"Dr. McCarthy … a great man, teacher and mentor. He gave great advice. I withdrew from Irvine and went to CSUF," Bostwick recalled. As a graduate, Bostwick was turned down by medical schools, so McCarthy helped him again with tips on how to present himself and he was accepted into New York Medical College.
Bosstwick's evolution from uncertain to medical school student is exactly why McCarthy created the program, said Christina A. Goode, coordinator of health professions advising. McCarthy did two things in the 1970s: crisscrossed the U.S. to meet leaders of leading institutions to tout Fullerton's high-quality students, and created the Health Professions Advising Office.
More than 2,000 students who have utilized the advising service have gone on to health professions, said Goode, noting that more than 85 percent of students who received recommendations to health professions schools from the Health Professions Committee successfully entered medical schools. Others have gone to veterinary, dental, osteopathic, allopathic and optometry schools.
What could such a small office – just Goode and her assistant, Julianne Stern – provide to achieve such a high success rate?
Successful Techniques
Goode put it in a single word: clarity. They untangle the labyrinth of choices, courses, requirements, activities and tests.
It was clarifying his goal and how to get there that made all the difference for him, Bostwick said. It gave him the confidence and knowledge to proceed aggressively without the false starts or wasted effort that too often discourage others. Looking back, he says, he realizes he might not have made it otherwise.
Seconding Bostwick's assessment is Brittany Kunza of San Dimas (B.A. biological science '10). Whether students enter the Health Professions Office on their own — as she and most others do — or urged by a faculty member, "Dr. Goode and Julie offer plethoras of information on what professions are available and how to match one with a student's interests and abilities. They offer great insight for students, which is needed because each path is unique. While going into a profession in the health-care industry may be a life goal, the steps to get there (can seem) convoluted, numerous and confusing."
"Advising moves outstanding students — who might get lost or discouraged — into those areas where they save lives, educate and treat others. Everyone benefits," said Math Cuajungco, assistant professor of biological science and a member of the Health Professions Committee. The committee assesses students' performance and selects those most qualified to recommend to health-professions colleges.
Sam Behseta, associate professor of mathematics, said the committee balances students' grade point averages, medical college admissions test scores, research and extracurricular activities to come up with the strongest combination in choosing who to recommend. Then they work on the all-important "personal letter."
"We all go over the letters," Behseta said. "They have two pages to give the admissions people a clear picture of themselves, what they want to accomplish and why they're passionate about their careers. The letters count a lot, so the students and the committee put effort into those."
Meeting a Variety of Needs
The advising office expanded in 1993 to help postbaccalaureate students, and more than 184 have gone to medical schools, 44 to dental schools and 46 to optometry, pharmaceutical and physicians assistants schools. Among those schools are Harvard, Loma Linda, UC Irvine, Boston University, UCLA, USC, University of Michigan, UC San Francisco and UC San Diego, said Goode.
In addition, those who graduated with non-science or health-professions degrees can pursue their dreams through a certificate program begun in 2004 and offered through University Extended Education. It allows access to courses needed to fulfill premed requirements. The certificate program began with four students and has grown to 70 this fall. So far, 28 students who completed the program have been accepted into health professions schools.
"Placements are important," Goode said, "but the key is in our name: advising. We do everything we can for every student who comes in. We offer every resource we have and refer them to others as needed.
"Sometimes, after all that, a student will come to the conclusion that the health professions aren't what they thought. Perhaps, for example, they didn't fully realize that being a veterinarian isn't just about healing an animal, sometimes hard choices have to be made. The student might realize they just don't want to make those choices and they move on to another major and another profession.
"That's a success, too," Goode said. "We're not here to tell them what to do. We're here to help them do what they choose."