Reaching for the Stars
Former Foster Youth Earn University Degrees
May 18, 2010
By Debra Cano Ramos
Updated June 8, 2010
Ten Cal State Fullerton students who faced challenges early in life as foster youth have realized their higher education goals. They are this year's graduating class of Guardian Scholars.
The scholars were recognized at the May 4 "Reaching for the Stars" banquet honoring their college achievements.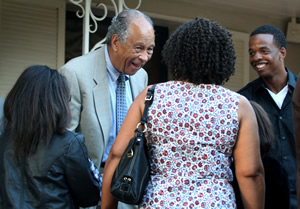 CSUF President Milton A. Gordon talks with graduating Guardian Scholar Laron Brown and his family during the Guardian Scholars recognition banquet held at El Dorado Ranch. Photo by Karen Tapia
"This program is very dear to my heart," said President Milton A. Gordon, addressing the soon-to-be graduates. "Through no fault of your own you have been thrust into situations beyond your control, and I, for one, am passionate about your future and believe you deserve to have the right to pursue higher education."
The Guardian Scholars program started on campus in 1998, in collaboration with Orangewood Children's Foundation, to help foster youth attain a college education and succeed in life.
"I am honored to serve in my current capacity with Guardian Scholars and to help make reaching for the stars a real possibility for the students in the program," said alumnus Ronald V. Davis (B.A. business administration '69), who is founder and a supporter of the program. Davis, former chairman of the Perrier Group of America, also serves as chairman of the program's advisory board.
Emancipated foster youth selected as Guardian Scholars receive year-round housing, financial aid, counseling, academic tutoring and support — all part of a comprehensive program leveraging the expertise and resources of private-, public- and independent-sector agencies.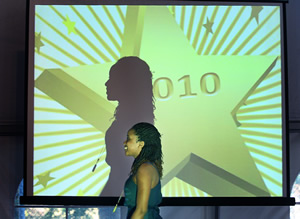 Guardian Scholar Onikah Porter, a junior majoring in history, gave a speech about her experiences as an African American young woman and a foster youth at the Guardian Scholars recognition banquet at El Dorado Ranch. Photo by Karen Tapia
In 2009, the university received the Child Welfare League of America's National Fostering Educational Success Award for its commitment to foster youth and their pursuit of higher education. It was the first time that an educational institution was honored by the Child Welfare League of America.
In April, Gordon was the recipient of the 2010 "Award for Outstanding Service to Children and the Community," presented to him by the San Francisco Court Appointed Special Advocate Program. Gordon was honored for his commitment to, and passionate belief in, the Guardian Scholars program.
"One of the reasons Guardian Scholars is successful is because of the strong support we receive from top university administrators, beginning with President Gordon, as well as the relationships we have cultivated with donors and community partners," said Grace Johnson, Guardian Scholars program director.
"It takes a tremendous amount of collaboration to make a program like this work — from the internal campus teamwork to our affiliations with external partners in the community, one being the Orangewood Children's Foundation."
Graduating 2010 Guardian Scholars are:
Laron Brown of Placentia is earning a B.A. in communications with a concentration in entertainment studies. Brown has been a member of the university's track team since his sophomore year. His highest jump is 7 feet and one-half inch with a long jump of 24 feet, 2 inches. Brown's career goal is to pursue his interests in sports to coach youth or become an athletic trainer. He has served as a Guardian Scholars peer mentor and as an Orangewood Children's Foundation mentor. (See related story: http://calstate.fullerton.edu/news/2009/189-laron-brown.html.)
Patrisha Busch of Newport Beach is completing a B.A. in international business with a concentration in Spanish. Busch studied abroad in Spain, where she had the opportunity to focus on academics and practice her Spanish language skills while working in the fashion industry. Fluent in Spanish, she plans to apply to a master's program in Spain.
Kathleen Curameng of Garden Grove is graduating with a B.S. in health science. Curameng has been active in various campus organizations, including the Pilipino American Student Association and Students Without Borders. Through Students Without Borders, she has traveled to Mexico to help to provide necessary medical equipment and supplies to a local clinic. She has been accepted into the nursing program at Cal State San Marcos and plans to become a nurse.
Melanie Demedenko of Huntington Beach, is earning a B.S. in child and adolescent development. Demedenko started at Cal State Fullerton in 2008 as a transfer student from Orange Coast College and is completing her degree in two years. She has served as a senior mentor in the Guardian Scholars Program, works as a teacher's assistant and plans to earn a master's degree in social work. Her sister, Nicole, is a 2005 CSUF Guardian Scholar graduate.
Desiree Galton of Costa Mesa is completing a B.A. in business administration with a concentration in management. Galton plans to use her degree to start her own business or work for a large corporation, where she would one day serve as chief executive officer.
Selenda Maria Gomez of Tustin is earning a B.S. in human services with a minor in anthropology. She is the first Guardian Scholar to complete the Student Leadership Career Track Certificate Program and also completed the EMBRACE (Educating Myself for Better Racial Awareness and Cultural Enrichment) workshop. She is currently an intern at the college and career center at La Mirada High School. She plans to make a positive difference in the lives of at-risk youth and the homeless population.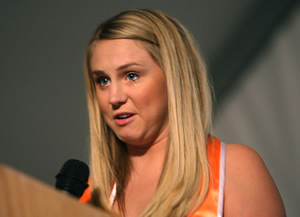 Graduating Guardian Scholar Nicole Gornall gave a tearful speech during the Guardian Scholars recognition banquet at El Dorado Ranch. Photo by Karen Tapia
Nicole Gornall of La Verne is graduating with a B.A. in communications with a concentration in advertising. This year, Gornall has served as Guardian Scholars advisory board representative and a member of the program's student advisory committee. In 2007, she traveled to Berkeley to take part in the Guardian Scholars digital storytelling workshop, which gave former foster youth the opportunity to create digital stories using their own words, images and music. Her sister, Megan, is a 2005 Guardian Scholar graduate.
Nicole "Nikki" Muth of Fullerton is completing a double major in psychology and women's studies and a minor in sociology. Muth has been active in numerous volunteer activities on campus and in the community. Her latest community activity was planning and organizing the Social Justice Summit on campus, which was attended by more than 550 students and community members.
Desiree Penland of Brea is earning a B.A. in business administration with a concentration in finance. In 2005, Penland participated in the Guardian Scholars digital storytelling workshop in Berkley. In 2008, she represented Guardian Scholars in Sacramento at the college opportunity campaign. While there, she spoke with the chair of the California State Assembly Committee on Higher Education regarding the challenges foster youth face in pursuing higher education.
Ryan Tew of Fullerton, is graduating cum laude with a B.A. in history and a minor in American studies. In 2008, Tew participated in the Guardian Scholars digital storytelling workshop in Berkeley. He plans to pursue a master's degree and teaching credential, and ultimately, teach high school history.
Since the program's inception, 68 former foster youth, including this year's graduates, have earned bachelor's degrees. Nearly 70 percent of the students who participate in Guardian Scholars graduate or are retained in the program, Johnson said. A dozen new students will be joining Guardian Scholars this fall.