Retaining Engineering Students
Grant Funds Scholarships and Extra Support
April 20, 2010
By Russ Hudson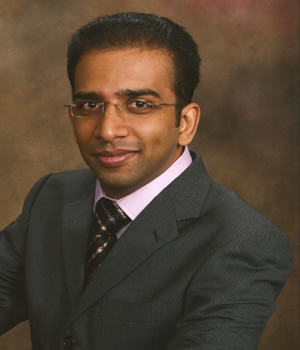 Kiran George
More than 50 engineering students will be provided scholarships throughout their college careers, thanks to a nearly $598,000 National Science Foundation grant awarded to Kiran George, assistant professor of computer engineering, and Susamma Barua, associate dean in the College of Engineering and Computer Science.
The grant underwrites $1,000 and $2,000 annual scholarships for up to five years through the Academic Catalyst for Excellence Scholarship Program, a program that aims at improving educational opportunities for academically promising, but financially disadvantaged, engineering students. The scholarships are meant to keep the students in class until they graduate by allowing them to focus more on studies and less on earning a paycheck, said George, ACE director.
Distribution of informational flyers has begun, Barua said, and application forms will be available online by the end of April. The selection process should be finalized by the end of the semester.
The first group will come from the current freshman class, Barua said, who will enter the program this fall as sophomores. Next fall's incoming freshmen can apply for the ACE scholarships for spring 2011.
First-generation college students and those from underrepresented groups will be emphasized, George said. Selection will be based on academic potential, grade point average, entry-level mathematics exam score, a personal statement, letter of recommendation and an interview.
As part of the ACE program, freshmen receive a special orientation that explains how a university differs from high school and familiarizes them with the campus and its academic resources. Participants are integrated into such existing support programs as the Center for Academic Support in Engineering and Computer Science, which provides study centers, tutoring, academic advising, expedited access to student organizations and professional development. Student mentors will work with ACE Scholars and faculty members will provide them with research experience.
For more information, contact George at kgeorge@fullerton.edu.