Mystery Shrouds Murder
Professorís New Book Explores Sensational French Case
April 20, 2010
By Mimi Ko Cruz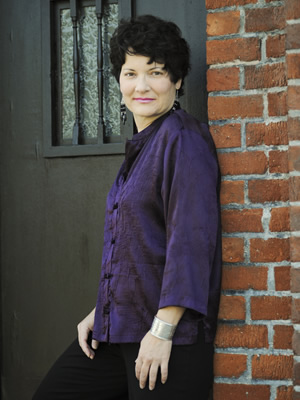 Gayle K. Brunelle
Whoever killed Laetitia Toureaux knew what he or she was doing. But, who is the murderer? The victim was stabbed in the back of the neck while she sat alone in a first-class car of a Paris métro train on May 16, 1937.
Gayle K. Brunelle of Cal State Fullerton and Annette Finley-Croswhite of Old Dominion University in Virginia heard about the unsolved mystery a decade ago and they set out to learn the full story. Ten years of research and many trips to France later, the history professors have produced a motive and a suspect, which they reveal in their book, "Murder in the Métro: Laetitia Toureaux and the Cagoule in 1930s France" (Louisiana State University Press, 2010).
They found case files that had been ordered sealed for 101 years and a plot involving secret love affairs, secret police activities, secret political schemes, terrorism and money.
"We researched this very famous unsolved murder case of a 27-year-old Italian factory worker," Brunelle said. "This was an intrepid, ambitious and clearly seductive woman, determined to rise in society. She was a woman of mystery and intrigue and courage."
Toureaux, as it turns out, was no mere factory worker. As outlined in Brunelle and Finley-Croswhite's book, the woman was involved in the Cagoule, a secret French extremist group with fascist sympathies. She worked as an informer for the Cagoule, but she was a double or triple agent as well, operating as an informant for the Italian secret service and, most likely, for the French police, Brunelle said.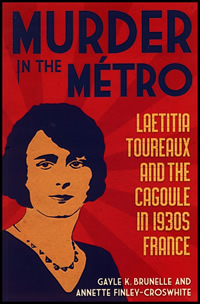 The authors traced the history of the French extreme right during the 1930s and interviewed Cagoule associates and others connected to Toureaux. Their exhaustive research concludes with a strong case for who killed Toureaux and why.
As the book hits the stores now, positive reviews are coming in. From Publisher's Weekly: "Brunelle and Finley-Croswhite have produced an exceptionally fine work that is well-researched and documented and consistently compelling."
And, Canadian Distributors of Scholarly Books picked "Murder in the Métro" as a "best bet" for scholarly books to read in 2010.
The book also has caught the attention of New York University, which has invited the authors to speak about it next fall.
A summary of "Murder in the Métro" in History Today Magazine can be found online.
About Brunelle
Brunelle received her doctorate in early modern European history from Emory University. She joined Cal State Fullerton's faculty in 1988.
Fluent in French, she has produced scores of articles and book chapters on French history, including "Policing the Monopolizing Women of Nantes" in the June 2007 issue of Journal of Women's History and "Kinship, Identity and Religion in 16th-Century Toulouse: The Case of Simon Lecomte" in the 2001 issue of Sixteenth Century Journal.
Brunelle presently has a manuscript under review with Bedford/St. Martin's Press, "Samuel de Champlain: Founder of New France," and is writing a future book entitled "Tropic Chimeras: France in Guiana,1604-1676."
She and Finley-Croswhite also are planning a sequel to "Murder in the Métro" that will recount the history of two trials of members of the Cagoule, one in 1938 and the other in 1948.