Forecasting Fullerton's Future
State of the City Event Focuses on Economic Outlook
February 2, 2010
By Mimi Ko Cruz
Attracting and retaining businesses in tough economic times was the topic of this year's "State of the City" luncheon.
The Jan. 29 event was held in the Titan Student Union, where Fullerton Mayor Don Bankhead (B.A. criminal justice '75, M.P.A. '77) and Anil K. Puri, dean of Mihaylo College of Business and Economics, addressed nearly 300 municipal, business and community leaders on "Moving Business Forward," this year's theme.
Joining them in a vigorous discussion of the city's economic outlook were Matthew Jenusaitis, president and CEO of OCTANe; Bob Sattler (M.B.A. '79), president of Lee & Associates; and Tod Sword, Southern California Edison's economic development services project manager.
Puri, who used his address at last year's State of the City luncheon to call on North Orange County's cities to consider a collaborative approach to economic development in the region, offered this year's audience a progress report on efforts to date.
"I am pleased to tell you that five North Orange County cities developed the North County Economic Development Partnership, which is currently in the process of examining some key questions as the first step toward exploring strategies for economic growth," he said.
"Times like these require all businesses to reevaluate their business models," Puri added. "Organizations like cities need to constantly examine how they are providing city services and to what extent their revenue sources are sufficient to meet their population's needs."
His Powerpoint presentation is available for download.
While there are more registered businesses in Fullerton today than last year, members of the audience wanted to know how the city will encourage more growth.
Bankhead said the city is eager to help businesses by providing services and incentives to help them succeed. However, he said, the economic outlook for 2010 is dismal. He said there has been a 38 percent drop in interest income and a potential $6.6 million loss in Redevelopment Agency funds. A video of his overview of the city's economy is available on the Cal State Fullerton YouTube channel.
Jenusaitis said: "This is a tremendous time for innovation … I'm very optimistic."
He mentioned medical, clean technologies and information services as areas of growth, adding: "one of the things Fullerton has going for it is that you're surrounded by smart people."
Sattler recommended to those businesses leasing office spaces for above-market rates tell their landlords to drop their rents.
Sword said Southern California Edison can provide business owners an energy audit to determine ways to cut costs.
"This year marked the 10th Annual Fullerton State of the City, focused on 'Moving Business Forward,' a theme I believe is being adopted not just by businesses but by everyone looking to recover from the recession," said Christopher J. Reese, director of community relations for Cal State Fullerton.
Bankhead issued a public invitation to luncheon attendees to participate in the North Orange County Business Expo to be held March 29 in Titan Student Union. The daylong event is aimed at helping people learn how to raise capital, start a business, develop networking opportunities and find business mentors. The March 29 event is free and open to the public. More information can be obtained on the Fullerton Chamber of Commerce's website.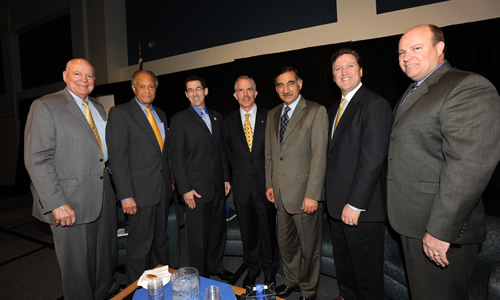 From left: Fullerton Mayor Don Bankhead, CSUF President Milton A. Gordon, Tod Sword, Bob Sattler, Anil K. Puri, Matthew Jenusaitis and Mark McGee, chairman of the Fullerton Chamber of Commerce. Photo by Stephen Weissbart
Related Stories
State of the City Orange County Register Report
State of the City Daily Titan Report