There's No Place Like Home
Gerontologist Leads Research Effort Bolstered By Challenge Grant
March 30, 2010
By Paula Selleck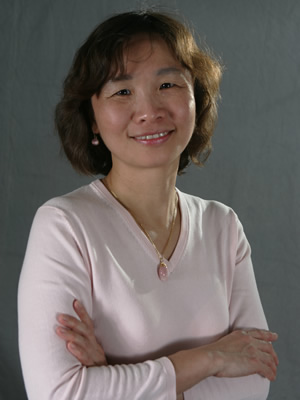 Echo Chang. Photo by Karen Tapia
Echo Chang may not look like a pioneer, but she's blazing a path to be one.
With her master's degree in gerontology from CSUF and her doctorate in gerontology from USC, she's committing herself to the development of assistive technology for older adults. It's a path directed toward home — toward keeping seniors safely in their homes, where they can take care of themselves and defer the need for institutional care.
Her mother's hip joint replacement surgery in 2001 was the catalyst for Chang to end a 15-year career in marketing and return to college to study gerontology. Along the way, she picked up numerous academic awards and scholarships, including the Beverly and Arnold Miller Endowed University Scholarship in Gerontology.
In 2008, Chang returned to her alma mater to serve as associate coordinator of the Gerontology Program in the College of Humanities and Social Sciences.
"I'm very happy to come back to a program I love so much," she said.
Chang expects her marketing background to come in handy when pursuing collaborations with the business community. She's already drawing on that expertise while meeting with university colleagues to see who might be interested in joining a multidisciplinary team she's putting together to collaborate on a research project to further what gerontologists refer to as 'aging in place.'
Walk-in bathtubs, grab bars and electric-powered chairs for use in the home are examples of assistive devices that make it easier for older adults to remain at home.
Chang is convinced there are many more such devices in our future, and an assistant professor of mechanical engineering has joined her to collaborate on the effort. Sang June Oh's ongoing research on control applications is an essential part of assistive technology, and his postdoctoral work at Yale in neurobiology explored the function of various parts of the brain during decision-making processes. These experiences are expected to play a big role in designing effective assistive technology for aging adults.
"We're concentrating on devices for daily activities," Chang said. "We will take a holistic approach," she added, noting that conducting research into how individuals use assistive devices is the focus. "Assistive technology is not about science, but about people. It should be user-centered. To design usable and appealing products, we need to understand what older users and caregivers need and want."
Forging Partnerships
The project's satellite activities include initiating partnerships with the emerging industry of device providers and service agencies, facilitating service learning through the research and promoting assistive technology in the community.
"Users' perspectives that we learn from this study and its consequential studies can be applied to evaluate assistive devices currently available on the market, to facilitate better product design and to plan for community education in promoting assistive technology for successful aging," Chang said.
"The project aims to identify barriers and barrier-breakers in the adoption of assistive devices," she added.
Other members of the team are: Thomas Boyd, associate dean of the Mihaylo College of Business and Economics and professor of marketing; Debra J. Rose, professor of kinesiology, director of the Center for Successful Aging and co-director of the Fall Prevention Center of Excellence; and Laurel Zettel-Watson, assistant professor of psychology.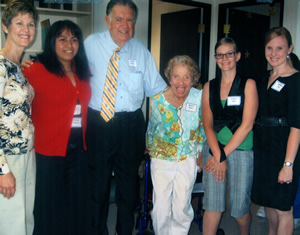 Beverly and Arnold Miller celebrate with the 2009 honorees of the Beverly and Arnold Miller Endowed University Scholarship in Gerontology.
Their project is supported by a challenge grant from Arnold Miller, president of the Technology Strategy Group, retired corporate vice president of Xerox Corp., former chair of the University Advisory Board and a longtime university donor, who, with his wife in 1996, established the Beverly and Arnold Miller Endowed University Scholarship in Gerontology. To date, 65 scholarships have been awarded and in 2003, Chang was a recipient.
She is now heading the Beverly Miller University Assistive Technology User Research Project, which was envisioned by Miller to honor his late wife's vibrant spirit and her dedication to improving the quality of life, through her civic and volunteer activities. The project is also intended to jumpstart support for the university's California Assistive Technology Laboratory.
"Dr. Miller, with his extensive engineering and gerontology background, worked with engineers and gerontologists to craft this challenge grant project and provided funds for its initiation," said Owen Holmes, associate vice president for public affairs and government relations. "The project aims to demonstrate the expertise of CSUF faculty in assistive technology and catalyze the establishment of the CATLab."
Focus on Daily Living
"This project will help identify older adults' perceptions, acceptance usage patterns and unmet needs related to assistive technology in daily living," explained Miller, who is busy writing letters to legislators, seeking their support of the university's CATLab.
"This pilot project is expected to demonstrate working expertise in applying a total approach to understand how assistive technology can meet the needs and wants of older users and their caregivers," said Miller.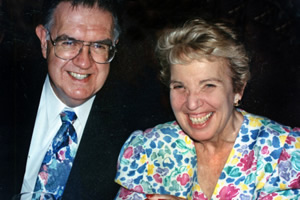 Arnold and Beverly Miller during the 1980s.
Chang's research effort is the first of many the university plans for the CATLab, which is among the top priorities identified by the university's Philanthropic Foundation Board of Governors.
"The new project honoring Bev is timely and has the potential to make a very large and important difference in the lives of all adults who have disability and/or who want to maximize their levels of independence," said Rose, director of the university's Center for Successful Aging.
As society has changed, "our concept of aging has changed," Chang observed. In the past, being old meant being served or helped, she explained. "Now, the concept is we want to be as independent as long as possible. Assistive devices are supposed to enhance our sense of independence and safety as we age."
As part of her doctoral dissertation, Chang studied personal care and assistive device use among older adults with disabilities, comparing parents and childless people.
"I discovered that using assistive devices, such as canes and walkers, is associated with lower depression for older people, but personal care was not. That sparked my interest in assistive technology."
For her dissertation and overall accomplishments while earning her doctorate, Chang received the Dean's Outstanding Student Award from USC's Davis School of Gerontology. With the Beverly Miller University Assistive Technology User Research Project, she has moved forward to lead a research effort that could help further an industry and benefit aging adults.
"Assistive technology has been hailed by policymakers as a strategy to reduce expensive personal assistance in long-term care. Still, user research is very necessary, yet remains very limited in this area," she said.
Related Links
Video of Arnold Miller's commencement address to the Class of 2009 in gerontology and sociology on "Becoming Solution Oriented."