Third Year on National Honor Roll
Students Exceed a Million Hours of Service Learning, Civic Service
March 16, 2010
By Debra Cano Ramos
One point three million hours of community engagement.
That's the number of hours Cal State Fullerton students gave to improving their local communities last academic year.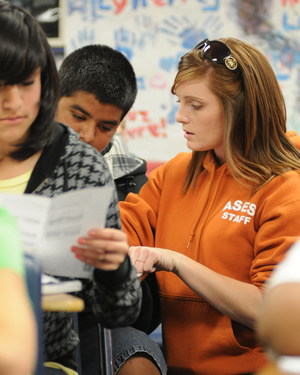 Cal State Fullerton student Kristi Boogaard tutors junior high school students in the Buena Park School District as part of the university's After School Education and Safety program.
The achievement helped the university earn — for the third consecutive year — a coveted place on the 2009 President's Higher Education Community Service Honor Roll.
The national recognition honored Cal State Fullerton's role in promoting community service to enrich the higher learning experience. Selection to the presidential honor roll is the highest federal recognition a college or university can receive for its commitment to service and civic engagement.
For the second year in a row, the campus also was recognized with the "Honor Roll With Distinction" designation, an honor only about 16 percent of the more than 700 honorees receive.
"Cal State Fullerton's service to the community increases every year. This recognition signifies the university's extraordinary level of commitment to facilitating community engagement and integrating it into everything we do," said Jeannie Kim-Han, director of the Office of University Research, Initiatives and Partnerships and Center for Internships & Community Engagement. "We're very proud of our faculty, students and community partners."
During the last academic year, 18,406 Fullerton students engaged in 1,319,680 hours of service, a 40 percent increase over 2007-08 when more than 14,000 students gave 940,186 hours of service.
Last year, the campus launched the "1 Million Hours of Service — Make Your Hours Count" campaign to create more awareness about community service opportunities and to better capture service hours performed by not only students, but faculty and staff members as well.
Most of the hours reported for 2008-09 were completed through student internships, academic service learning coursework, student teaching, volunteerism and fieldwork.
Fullerton was among 14 California State University campuses that received the top honor for "exemplary, innovative and effective community service programs." The CSU was the first higher education system in the country to establish a system office to support service learning and community engagement.
Cal State Fullerton offers a wide range of community-based service and course-related activities through its colleges and divisions. The Center for Internships & Community Engagement; the Volunteer & Service Center; Educational Partnerships; Associated Students, Inc.; and Student Affairs are among the campus entities that provide students with service experiences outside the classroom.
The Corporation for National and Community Service, a federal agency, administers the annual award, which was launched in 2006. Honorees are chosen based on a series of selection factors, including scope and innovation of service projects, percentage of student participation in service activities, incentives for service, and the extent to which the institution offers academic service-learning courses.
The corporation oversees the honor roll in collaboration with the federal departments of Education and Housing and Urban Development, Campus Compact and American Council on Education. It engages more than five million Americans in service through its Senior Corps, AmeriCorps, and Learn and Serve America programs, and leads President Obama's national call to service initiative, United We Serve. For more information, visit the National Service website.
Related Story: