Back From Mt. Everest
CSUF Alumna-Lecturer Struck With Rare Disease Summits World's Highest Peak
June 8, 2010
By Mimi Ko Cruz
Cindy L. Abbott climbs a ladder at Khumbu Icefall. Photo by Scott Woolums
Despite partial blindness and the ravages of a rare disease, Cindy L. Abbott has conquered her ultimate challenge. At 9:02 a.m. May 23, she summited Mt. Everest, the highest peak in the world.
As she stood there, 29,029 feet above sea level, with about 20 other climbers, Abbott glanced down and thought, "Everything in the world is below me."
The part-time health science lecturer and alumna (B.S. physical education '93; M.S. kinesiology '96) called the experience "surreal."
"After years of training, spending six weeks on the mountain, going up and down getting my body adjusted to the altitude and the actual summit climb, I still do not believe I did it. It was very difficult on many levels — physical, mental and emotional."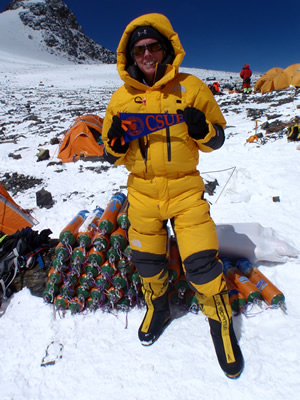 Cindy L. Abbott shows her Cal State Fullerton pride at Mt. Everest Camp 4 (at 26,000 ft). Photo by Bill Allen
At one point, Abbott said, the weather had climbers pinned. Violent winds destroyed their tents and nearly froze them. A cyclone swept through, leaving only a two-day window when Abbott and nearly 100 others attempted the grueling four- to five-day ascent from base camp.
Abbott's team made it to Camp 4 at 12:30 p.m. and left for the summit seven hours later.
"It took us 12 hours to get to the top with no breaks, except to change oxygen bottles," Abbott recalled. "I just kept climbing whatever was in front of me: a rock wall, an ice face, a razor-edged ridge. It did not matter, I was going to the top."
As it dawned that the climb down would be difficult, she quickly gulped down her medication and pulled out her National Organization for Rare Disorders banner for a photo. The climb was not just about accomplishing a personal goal, it was about raising awareness about rare diseases in an effort to call attention to the need for research for treatments and possible cures.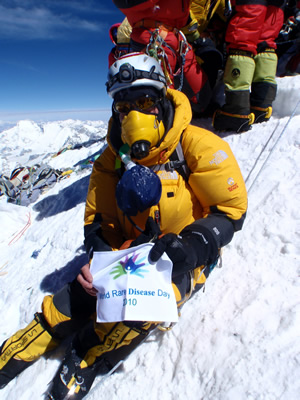 Cindy L. Abbott summits Mt. Everest. Photo by Scott Woolums
Abbott has Wegener's Granulomatosis, a disease that causes inflammation of blood vessels, restricts blood flow and damages kidneys, lungs and other organs. She's lost vision in her left eye because of it and her body is starting to deteriorate.
Wegener's Granulomatosis has no cure.
"That's why I had to climb Mt. Everest this year," Abbott said. "I don't know how much longer I have, but I conquered my challenge."
The 51-year-old mountain climber, a resident of Irvine, said reaching her goal proves that dreams are for catching, "no matter the obstacles."
"Life gives us hurdles," she said. "It is up to us as to how we choose to deal with them. I choose to jump over mine."
To read more about Abbott, read her blog, Reaching Beyond the Clouds, where she is posting updates about her health and her Mt. Everest experience. She also is collecting donations on behalf of the Vasculitis Foundation, a nonprofit organization that supports and empowers patients through education, awareness and research.
Related Story