Big West Female Track Athlete of the Year
Ciara Short Leads Conference in 100, 200 & 400 Meters
From Sports Information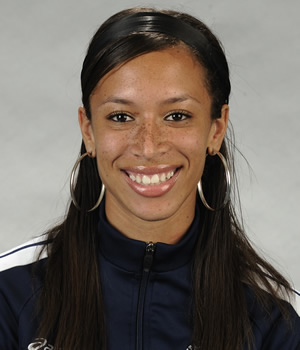 Ciara Short
Cal State Fullerton junior Ciara Short was named May 19 the Big West Conference Female Track Athlete of the Year for the 2010 outdoor season.
Short won the 200- and 400-meter races two weeks ago at the Big West Championships and also ran on both relay teams. She will be competing at the NCAA West Regional at Austin, Texas, beginning May 27, in the 200 and 400 and 4x100 relay.
Short, a communications major from Madison High School in San Diego, is the first Titan to win the Women's Athlete of the Year award. She has set three individual school records this season, establishing new marks in the 100 (11.66), 200 (23.70) and 400 (52.37), while also helping the 4x100 squad set a program mark.
She was a two-time winner at the Big West Championships in the 200 and 400, breaking the combined five-year run of Cal State Northridge athletes winning the events. Short also helped the 4x100 and 4x400 relay squads to second and fourth-place finishes at the league meet, respectively. She is the leader in the Big West in the 100, 200 and 400, ranks sixth in the West Region and seventh nationally in the 400, and ranks 28th in the NCAA in the 200.
Short also was a three-time Big West Track Athlete of the Week, the most honors won by an athlete this season.