The Carl's Jr. Legacy
Oral History Project Delves Into Life of Carl Karcher, Food Visionaries
March 30, 2010
By Mimi Ko Cruz
For years, friends and family have been telling stories about the man who grew a single hot dog pushcart into more than 1,000 fast-food restaurants under the Carl's Jr. logo. Now, their stories are being recorded by Cal State Fullerton's Center for Oral and Public History (COPH) as part of its Karcher Family/Southern California Food Visionaries and Culture Project.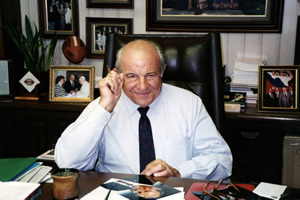 Carl Karcher at his office desk. The photo was taken by Diana Todaro, founder of Diana's California Cookies during her visit to Carl Karcher Enterprises on July 31, 1997.
Founder Carl N. Karcher never missed a family dinner, liked to play cards and had an impressive recollection of names and faces. He had a dozen children and, today, his family includes 53 grandchildren and 59 great-grandchildren. He was an active member of the Republican party and the Catholic organizations Knights of Malta and Legatus. Those are a few of the facts about the late entrepreneur to have emerged from the oral history project since it launched last year with a $50,000 grant from the Karcher Family Foundation.
"The centerpiece of the project is Carl Karcher and the fast-food enterprise he built," said Natalie M. Fousekis, the center's director and associate professor of history at the university. The project includes extensive interviews with the Karcher family, early associates of Carl's, and those who run CKE enterprises today.
Abundance of Artifacts
The center also has acquired more than 40 boxes of documents and memorabilia from the Karcher Family and CKE. The items explore the fast food industry as it was developing, including Karcher's correspondence with many other leaders in fast food, like In-N-Out chain founders Harry and Esther Snyder, Fousekis said.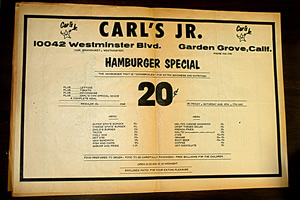 One of Carl's Jr.'s first menus advertises the hamburger special for 20 cents.
Holdings include documents and memorabilia reflecting the political activities of Carl Karcher and his wife Margaret Heinz Karcher as well as personal letters, cards, hand-written agendas, awards, journals, newsletters, photographs, financial reports, placemats and menus.
"Given Southern California's role in the development of the modern fast-food industry, this is an extremely important collection and a huge acquisition for COPH," Fousekis said.
The project is being directed by Allison Varzally, assistant professor of history, and the processing of the archival collections is being supervised by COPH's archivist, Stephanie George.
SoCal and the Birth of Fast Foods
"Since the early 1940s, Southern California has evolved from a thinly populated, largely rural area into a crowded, complex and culturally rich metropolitan region," Varzally said. "The stories of food industry entrepreneurs are critical to understanding these changes. They pioneered ways of eating that influenced urban development and mass consumption. This project seeks to explain this vibrant period of innovation and transformation in American society."
Despite the growth and importance of Southern California's food industry and a popular appetite for tales of the region's entrepreneurs and evolving foodways since World War II, 'the subject has been incompletely documented, displayed, and interpreted," said Varzally, who interviewed Carl Karcher for the project weeks before he died in January, 2009.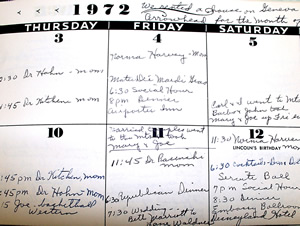 This is a glimpse of Carl Karcher's personal calendar in February, 1972.
With the help of Karcher's associates and contemporaries, the center is documenting CKE's humble beginnings, family connections, technological innovations, changes in menu, strategies of expansion and financial struggles and triumphs that have defined the company's ground-breaking position in the industry.
Varzally said plans call for expanding the project to include other food visionaries of the region and, thus, tell a broader, more inclusive history.
She and three students have completed upwards of 25 oral histories, via video or audio recording, to date. The recordings are being transcribed, bound and made available to scholars, media and the general public. History scholars from across the country have already begun using some of the information to do research and write books.
Firsthand Experience
As part of the project, students are learning all about making oral histories.
History major Phoithien Duong has interviewed Carl Karcher's children Barbara Wall, Carl Leo Karcher and Jerome Karcher, as well as sister-in-law Dorothy Karcher, granddaughter Charmae Price and long-time Carl Jr. employee Dorathy Laster.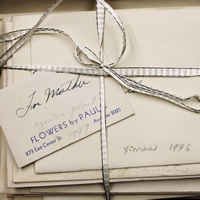 This is a stack of handwritten cards and letters from Carl Karcher to members of his family.
"I'm learning so much about Carl Karcher and his rags-to-riches story through this project," Duong said. "It is such a rewarding experience for me and there's still so much to learn. I hope to continue doing these oral histories next semester."
Duong, of Westminster, said the stories about Karcher's character have struck her and she wants others to learn about him as well.
"The people I interviewed talked about how Carl conducted his business in a respectful manner toward his employees and how he was always giving back to his community," the 23-year-old student said. "One of his long-time employees spoke about how he would give her a ride to work when she needed it and how he would visit a store, chat with the employees, then start cooking in the kitchen."
Other stories included accounts of Karcher's friendships with competitors, Duong said. One story concerns the time the owner of a nearby burger restaurant ran out of buns and Karcher gave him Carl's Jr. buns to help him out.
"Before doing this project, history only existed to me in textbooks," she said. "Oral history has brought a new dimension of history to me. It's more alive and raw. The best way to describe it is that it feels like going from black-and-white to Technicolor."
Starring the Karchers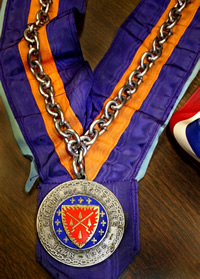 This is a medal awarded to Carl N. Karcher. It was given by Chaîne des Rôtisseurs, an international gastronomic society that Carl and Margaret Karcher supported. The couple once hosted a chapter dinner in their Anaheim home.
Karcher's daughter, Barbara Wall, called the oral history project "exciting." Her mother had approached the center about a year before she died in 2006, and the project is something she had hoped would come to fruition.
"The property where CKE's headquarters are now, off the 91 Freeway, was once my mother's family home," Wall said. "She really wanted to capture the history of the company and the area where she and her 14 siblings grew up."
Wall recollected her own childhood memories from when her father had a dozen restaurants and "how excited we were when the 100th store opened in Downtown Los Angeles in the early 1980s."
Her parents married in 1939 and became big supporters of Republican candidates and supporters of numerous charitable causes, including the United Way of Orange County, Orangewood Children's Home, the Right to Life League and South Coast Repertory.
Carl Nicholas Karcher was born in Ohio in 1917. He dropped out of school after the 8th grade to work on his parents' 300-acre farm. During the Great Depression, he moved to Anaheim to work for an uncle, Wall said.
In 1941, Karcher borrowed some $300 against his Plymouth sedan and bought his first hot dog cart, which he set up in South-Central Los Angeles. Business picked up. Visitors soon will be able to hear the rest of his story at the Center for Oral and Public History. And, plans call for an exhibit of the project in 2013 at the Fullerton Arboretum's Orange County Agricultural and Nikkei Heritage Museum.
"This project is a great way to preserve the history of my dad and the pioneers of the restaurant industry," Wall said. "Many fast-food chains, like McDonald's and In-N-Out Burger started here in Southern California. The oral histories and the exhibition will bring the past to life."
Center History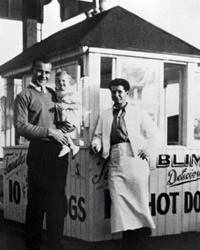 Carl Karcher, left, with daughter Anne Marie, and one of his company's first employees at "The Blimp," his first hot dog stand in Los Angeles.
The Center for Oral and Public History was established 41 years ago. It has captured and preserved the stories of Southern California and the West's diverse populations. It has introduced generations of students to oral history methodology and sent them out into the field to record histories, building bridges between the Cal State Fullerton and the community.
The center houses California's largest collection of oral histories that reflect the vast ethnic, linguistic and cultural diversity of Southern California, and provide a window into the region's history and politics, according to center officials.
Besides the Karcher Family/Southern California Food Visionaries and Culture Project, the center also is conducting oral histories of veterans and others stationed at the former El Toro Marine Corps Air Station during World War II. That ongoing project is being funded by the Orange County Great Park Corporation and more than 200 interviews have been recorded so far.