An Appetizer
Carl Karcher Oral History Captured on Video by Center for Oral and Public History
March 30, 2010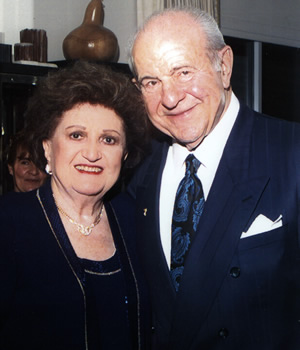 Carl N. Karcher, right, and his wife Margaret Heinz Karcher, circa 2000.
Carl N. Karcher, the late entrepreneur who built a fast-food empire from a single hot dog pushcart into a chain of more than 1,000 fast-food restaurants bearing his name, talked about his politics, his business and his loves in an oral history captured just weeks before he died.
Allison Varzally, assistant professor of history, conducted two hour-long interviews in mid-December, 2007 for Cal State Fullerton's Center for Oral and Public History. Karcher died of complications from Parkinson's-related pneumonia on Jan. 11, 2008. The 90-year-old restaurateur spoke softly as he told Varzally all about his life.
"Although Carl's memory was fragmented, and his voice quiet, he expressed his great love for his family, especially his deceased wife Margaret, the importance of his Catholic faith and his belief in the system of free enterprise," Varzally said. "He was well dressed and had a twinkle in his eye. At the close of the interview, he gave our videographer, Kira Gentry, and myself, his famous coupon/prayer cards, featuring St. Francis. I have tucked mine away as a memento of the oral history."
The following is an excerpt from the oral history. A transcript of the recording is available for download.