Finding Jobs
Career Center Helps Students Put College Education to Work
February 23, 2010
By Debra Cano Ramos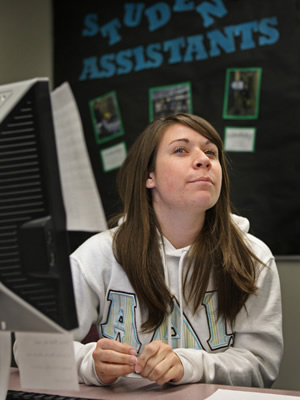 Communications student Lindsay Kwek, who works part time at the Career Center, started searching for her first professional job in the public relations field in December, in hopes of landing a position after her May graduation. Photo by Karen Tapia
Cal State Fullerton senior Lindsay Kwek's college graduation is a few months away. So is her professional future.
Because of today's tight job market, the communications major launched her job search for a public relations position in December, in hopes that starting early will pay off.
"I'm really scared. My biggest fear is not being prepared enough to find a job. It's a tough field, and I hope I've made the right steps in college to land that right job after I graduate," said Kwek of Fullerton.
It's been almost a year since Brian Littler graduated from Cal State Fullerton armed with a B.F.A. in art with a concentration in graphic design. He still hasn't found the ideal career job, despite diligent preparation and fierce determination.
Littler has persevered by polishing his portfolio, researching dozens of companies and getting involved in professional organizations. He has faced frustration and rejection, but continues to stick with his search to land a graphic designer position at an in-house design firm or design agency.
Meanwhile, until he finds a permanent position, Littler recently took a temporary job designing educational booklets and materials for a nonprofit organization.
Career Center Spring Events
Thursday, Feb. 25


10 a.m. to 2 p.m. — Engineering & Computer Science Fair, courtyard of the Engineering-Computer Science Complex

Tuesday, March 9


10 a.m. to 2 p.m. — Internship & Job Fair, Titan Student Union

Monday, March 29


1 to 4 p.m. — Teacher Job Fair, Titan Student Union
For workshops on various topics, such as interviewing, resume writing, networking, and more, visit www.fullerton.edu/career.
"My current work is a step in the right direction, and it adds experience to my resume to strengthen my hunt for a full-time employer," said Littler, who lives in Mission Viejo with his parents.
On-Campus Assistance
To help them with their job searches, Kwek and Littler turned to the university's Career Center. They are not alone.
More and more students are turning to the center for expert help to jump-start their careers or find a new job, said Jim Case, Career Center director.
"It's the most challenging job market for college graduates I've seen in years," said Case, who's been a career planner for 33 years. "With that said, I'm also starting to see that employers are realizing that despite the economic downturn, they still need bright, competent college-educated professionals for entry-level positions. So there is a reason for graduates to be hopeful."
The Career Center provides free career counseling and advising services to current students, as well as to graduates for one year following their graduation. Services include walk-in career counseling, online tools, workshops and special events.
While the need for services has increased, the Career Center also has faced budget cutbacks, resulting from the state's reduced support for the California State University system, Case explained.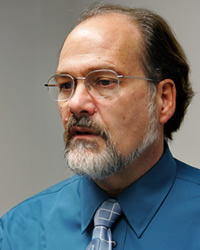 Jim Case, Cal State Fullerton Career Center director, calls the job market the toughest he's seen in decades, but also notes that job prospects for college graduates are becoming more promising. Photo by Karen Tapia
"The Career Center's capacity to provide individual services to students has been reduced by about 20 percent this year due to unfilled staff positions and furloughs, so our student counseling, for example, is also down about 20 percent," Case said.
"We also have reduced our outreach to students, concentrating on the more than 16,000 students who are already registered for our services, so these numbers are stable, rather than growing, for the first time in the last seven years."
Moreover, Cal State Fullerton alums are reaching back to the Career Center for support. The center's counseling services to alumni was up 19 percent during the period from September 2009 through the end of January, compared to the same period the previous year, Case noted.
Alumni who are members of the university's Alumni Association are eligible to use the center's wealth of online services, including job postings, career information and resume preparation tips.
Jump-Start to a Career
In response to meet the needs of students in one of the toughest job markets in decades, the Career Center this year refocused its services to give Cal State Fullerton's soon-to-be grads some extra tools to stand out from their peers.
"Right now is the ideal time for college students to jump-start their career. The fact is that the worst of times are also the best of times to standout," Case said. "College students demonstrating a winning attitude and performance beyond their peers now will be remembered long after this challenging job market turns around."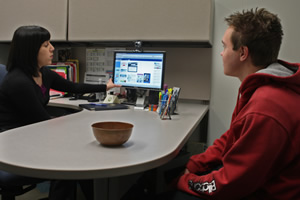 Elizabeth Zavala-Acevez, Career Center assistant director-career development, works with student Grant Thomas, at the Career Center. Photo by Karen Tapia
Among steps taken by the center is the new "Take Five: Putting Your Education to Work" campaign, which focuses on encouraging student participation in job search workshops, internships and Career Center events, such as the March 9 Internship & Job Fair.
"A job search can be challenging even in the best of times," Case said. "But through the Take Five campaign, if students understand the value of starting their job search at least five months before graduation, attending the center's workshops and programs, and becoming well prepared for a job interview, they will be empowered to create their own future."
Kwek is on track with her job search and has utilized an array of job search strategies between now and her May graduation. She is working at DreamWorks Animation — her third college internship — to gain professional experience in the public relations field.
A member of Alpha Delta Pi sorority, she also is involved in campus leadership positions, works part-time at the Career Center, and uses social media outlets to broaden her job prospects.
"Sometimes it is pure luck in landing a job," Kwek said. "But, being prepared and making the right connections are important too."
Littler agreed: "All of the jobs I have landed have been through word of mouth and being in the right place at the right time … My experience has been that finding a job in this downsized job market relies heavily on how much you prepare.
"Know your industry inside out, and focus your search on your ideal job."
For more information, visit the Career Center website.
Employer's Perspective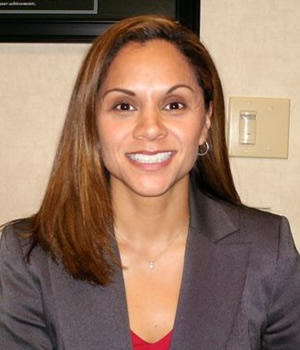 Susie Arellano-Reed is the college relations manager for Enterprise Rent-A-Car, Southern California, which has partnered with the Career Center to help graduates land jobs.
Enterprise Rent-A-Car has partnered with Cal State Fullerton's Career Center to benefit the company and graduates breaking into the job market.
"The Career Center acts as a bridge from student to employer. With their help, we are able to reinforce our brand on campus, be exposed to a large portion of the student population, and most importantly, recruit effectively to a target audience," said Susie Arellano-Reed, college relations manager for Enterprise Rent-A-Car, Southern California. "We value the partnership between Enterprise Rent-A-Car and the Career Center."
Through its ties with the Career Center, the company has been able to build stronger relationships with the university, Arellano-Reed explained.
"Whether it be with athletics, student organizations or professors, we have been able to develop these relationships with the help of Career Center services," she said.
In new hires, Enterprise looks for competitive individuals with a strong work ethic and a desire to learn and grow with the company, said Arellano-Reed, whose company is hiring. Enterprise Rent-A-Car will be among recruiters and corporate sponsors at the March 9 Internship & Job Fair on campus.
Arellano-Reed offers her top tips on how college students can become interview standouts when trying to land their first job:
Dress appropriately. First impressions are huge! Think conservative and professional.
Be confident, smile and give a firm handshake. Body language says a lot about a candidate.
Do your company's research. I'm not just saying read the company Web site. I'm saying network with people who work for the company, as well as past employees (if you have access to them), and ask questions about the company's culture, values, mission statement and philosophy. Make sure that the company and position are the "right" fit for you.
Make sure you "close" the interview. Don't be afraid to ask for the next step in the interview process.
Finally, follow up with the employer. Send a thank you e-mail and/or card. This will show them that you are really interested in the position.