Twice-Honored Educator
Engineering's Binod Tiwari Recognized for Contributions in the Classroom and in the Profession
February 8, 2010
By Russ L. Hudson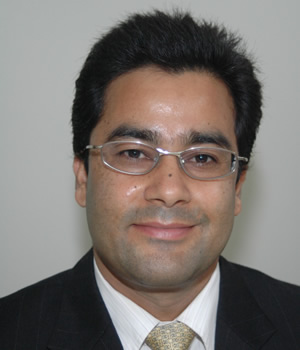 Binod Tiwari
An engineering faculty member who has developed educational materials, established survey labs, won several fellowships and conducts research throughout U.S., Japan and the Himalayas, will be honored with not one, but two educator awards this month.
For his contributions to his profession and to education, Binod Tiwari, assistant professor of civil and environmental engineering, will be honored with the Distinguished Engineering Educator Award from the Orange County branch of the American Society of Civil Engineering and the Outstanding Engineering Educator Award from th Orange County Engineering Council. The honors will be presented Feb. 18 and 20, respectively.
Among Tiwari's accomplishments:
served as the first director of the ASCE L.A. Section geotechnical group
established the Soil Mechanics and the Engineering Surveying labs at Cal State Fullerton, both of which are used regularly by both students and faculty
served on committees addressing engineered slopes, dams and embankments, as well as developing educational materials and aids, with the International Society of Soil Mechanics and Geotechnical Engineering, ASCE and the United States Universities Council on Geotechnical Education and Research.
Tiwari earned his doctorate in environmental management science and master's in geo and biosphere science from Niigata University in Niigata, Japan, and a bachelor's in civil engineering from Tribhuvan University, Kathmandu, Nepal.