Highest Note
Bill Cunliffe Wins Grammy Award
February 2, 2010
By Paula Selleck
The third time was the charm for Bill Cunliffe Sunday, when he went from Grammy-nominated composer, arranger and jazz pianist to Grammy winner.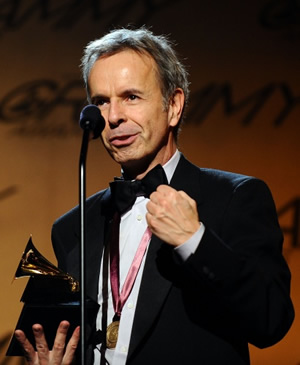 Bill Cunliffe accepting his award at the Grammys.
The associate professor of music had been nominated twice before for Best Instrumental Arrangement and won this time for his arrangement of "West Side Story Medley." It's one of 11 tracks on the CD "Resonance Big Band Plays Tribute to Oscar Peterson," released last May by Resonance Records, of LA.
At Sunday's pretelevised ceremony, Cunliffe was standing at the back of the room when his name was announced, so was out breath after "wind-sprinting" to the podium to accept the golden gramophone.
"I really didn't expect to win," he said, reflecting on the moment he triumphed over other accomplished artists to win the music industry's most coveted prize. The field included "Star Trek" 2009 composer Michael Giacchino, a two-time Grammy winner who was nominated for his soundtrack for the animated film "Up." (He'd already won the Golden Globe and is up for an Oscar.)
Also in Cunliffe's category was four-time Grammy-winner Vince Mendoza, who is the arranger for Joni Mitchell and one of Cunliff's "idols and real role models." Because Mendoza was nominated twice in the same category, Cunliffe reckons that he took home the Grammy instead because "the vote was split."
Music Department Chair Marc Dickey and Chuck Tumlinson, who heads the department's jazz program, say Cunliffe's modesty is part of his appeal.
"Bill is a charming, witty, warm, humble colleague, and we brought him here to complement and round out our excellent jazz faculty. He was, and is, the perfect choice," said Dickey. "It is a great marriage between Bill Cunliffe and the department. He has high expectations for his students, and they work very hard for him and learn a lot."
Titans and Grammy Awards
Bill Cunliffe, associate professor of music, is the latest Titan to win Grammy gold (or snag a nomination). Others include:
Alumna Cindy Shea and her Mariachi Divas won a 2009 Grammy in the Regional Mexican Album category for "Canciones de Amor," tying with Mariachi Los Camperos de Nati Cano. They picked up a second nomination in the same category for this year, but lost to Vicente Fernández.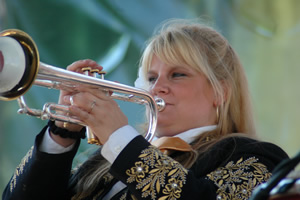 Photo by Patrick O'Donnell
Former student Peter Rutenberg conducted the Los Angeles Chamber Singers' "Cappella" ensemble in a recording of Padilla's "Sun of Justice" that won the 2007 Grammy for Best Small Ensemble Performance.
CSUF trumpet alumnus Tony Ellis (B.M. - performance '81, M.M. '85, single teaching credential - music '86) performed on the Grammy Award-winning album of Carlos Chavez' Chamber Works by the Southwest Chamber Music Society in 2005.
Gordon Paine (B.A. music '75), emeritus professor of music, and voice faculty member Al Brightbill were part of the 2001 Grammy-winning recording of "Credo" by Krzysztof Penderecki with the Oregon Bach Festival Chorus and Orchestra conducted by Helmuth Rilling.
In 2000, alumnus Eric Alatorre was a member of Chanticleer when the prestigious choral ensemble won a Grammy for Best Small Ensemble Performance for the album "Colors of Love — Works of Thomas, Stucky, Tavener and Rands."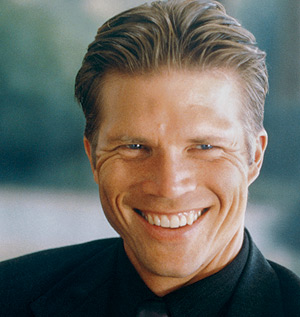 Opera star Rod Gilfry (B.A. music - music education '81) was nominated for a Grammy for his recording of "Don Giovanni" in 1995.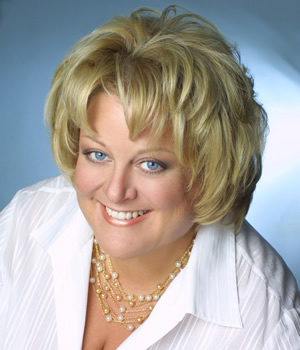 Alumna Deborah Voigt won a Grammy in 1996 for a performance of Berlioz' opera "Les Troyens" with L'Orchestra Symphonie Montreal and Chorus.
Wide-Ranging Experience
Cunliffe joined the Cal State Fullerton faculty in 2007 after having toured as a pianist and arranger with the Buddy Rich Orchestra and performing with the likes of Frank Sinatra and such jazz legends as Ray Brown, Benny Golson, Freddie Hubbard, Joe Henderson, James Moody and Joshua Redman.
Along the way, he composed music for television, films, big bands, large orchestras, chamber groups and numerous record labels, as well as advertising campaigns, including a sports package for the Baltimore Orioles.
He was nominated for Emmys twice in the 1990s for Best Original Song and received the Kimmel Center Jazz Award for Best Composition in 2005, from the American Composers Forum. His three albums for Warner/Discovery Records all charted in nationwide jazz polls.
Cunliffehas received grants from the National Endowment for the Arts and commissions from a variety of institutions, including the New Zealand School of Music and the Henry Mancini Institute. His two published books, "Jazz Keyboard Toolbox" and "Jazz Piano Inventions" (Alfred Publications), are standard jazz reference works.
Both Dickey and Tumlinson cite Cunliffe's diversity and versatility as a musician.
"He is primarily an arranger who also happens to play jazz piano really well," said Dickey, noting that Cunliff's career in music has parallels to the students.
"Many of our graduates go out and work in Southern Caifornia and through the rest of the world as professional musicians. They're in behind-the-scenes jobs; they're not necessarily famous, but they're making a good living. His Grammy, in a way, represents that. This Grammy is for arranging; nobody knows arrangers; nobody appreciates arrangers, and this is a quiet, behind-the-scenes role of figuring out what-this-big band-is-going-to-play kind of arranging."
Offered Tumlinson: "The kinds of things he's doing, the depth of experience that he's had, the extremely high level at which he operates, and his versatility are highly unusual — not just for a faculty member, but for a professional musician."
"He's known mostly as a jazz musician and just in that realm, he's a wonderful composer, arranger and band leader. He does so many things in the realm of classical music. He also writes for choirs and orchestras. … His level of activity is just amazing," he added.
"In addition, he's a really strong teacher who both holds high standards and understands and can work with students that are not quite at the highest level. He can work with top students, as well as those at the more basic level."
Cunliffe leads the jazz small group combo program, directs Jazz Ensemble II, and teaches courses in jazz arranging, improvisation and theory.
"I like jazz to have a beginning, a middle and an end … an arc, like a symphony that builds to a big climax … I love the jazz that we do at Cal State Fullerton with the jazz bands because you can create a big arc and exciting moments."
His previous teaching experience includes stints on the faculty at Central State University in Ohio, Musicians Institute of Technology in Hollywood, Cal State Northridge (as a sabbatical replacement), USC and Temple University in Philadelphia. His many workshops and clinics span Fullerton College and the Orange County High School of the Arts, to the Vail Jazz Festival and Skidmore Jazz Workshop.
Reaching for the Gold
Cunliffe's path to the Grammy began when he was in college, performing rock-and-roll gigs at the Prince Spaghetti House in Saugus, Mass.
"A friend, Michael Sizaitchik, a pianist with the James Cotton Blues Band, came in one day and told me about Oscar Peterson," Cunliffe recalled. "He lent me a record, and I became a jazz player overnight. Before that, I was playing rock and roll and listening to Stevie Nicks."
Decades later, after he had graduated summa cum laude from Duke University, gone on to the Eastman School of Music — where he studied with Mary Lou Williams — earned a master of music in jazz studies, won the prestigious Thelonious Monk International Jazz Piano Award in 1989 and crisscrossed the country on tour, eventually moving from New York City to Studio City, he hooked up with Resonance Records, one of numerous labels on his discography.
The owner and president of the company proposed "doing an album celebrating the music of the great Oscar Peterson, who when I was a college kid, was my favorite piano player." The musicians affiliated with the label jumped at the chance and pooled their ideas on what tracks to include.
"The one thing I insisted that we do … was the 'West Side Story' album of Oscar Peterson doing a medley of those tunes," Cunliffe recalled. "I took the basic framework of Oscar's arrangements, fleshed them out and put them into a 13-minute medley, so I marginally expanded on Oscar's work," he explained. "He provided the main conception behind these arrangements, and I was thrilled with the result."
For Cunliffe to win a Grammy for an arrangement that pays tribute to a jazz legend he had long admired, gives added meaning to the honor. The icing on the cake was seeing some of his former students at the ceremony performing as part of the Grammy Jazz Ensembles. "It's fun to see your kids flourishing."
His previous Grammy nominations came in 2002 for an orchestral arrangement of "Angel Eyes" for trombonist Alan Kaplan, and in 2005 for his arrangement of "Do It Again" by Steely Dan.
"In spite of the good work that many of us do every day, to be recognized with the premiere award that a musician can get … I really do feel like I have nothing to prove anymore; I can just go ahead and make the music I want to make."
In addition to solo performances, Cunliffe performs with his own trio and duets with the jazz flutist Holly Hofmann, with whom he has recorded five CDs. He also is composer-in-residence at All Saints Episcopal Church in Pasadena.
Cunliffe will next be on stage Feb. 14 directing the Southern California School Band and Orchestra Association Honor Jazz Bands, featuring talented high school students. The noon program in Meng Hall of the university's Clayes Performing Arts Center is open to the public free of charge.
Among his own students, Cunliffe says are "several world-class young pianists who are going to do great things."
Cunliffe is scheduled to perform this month at various venues around the Southland. His gigs for February.
Videos: Black-Tie Sprint
And the Grammy Goes to: In this video of the pretelecast ceremony, watch Bill Cunliffe dash for and accept his Grammy. Click on the image, then slide the counter to 27.
Recording Session: In this 4:39-minute video clip from the recording session for the Peterson tribute CD, Bill Cunliffe is among those praising pianist Marian Petrescu, who performs Cunliffe's Grammy-winning arrangement. The associate professor of music appears on camera about half-way through and again toward the end, directing the big band members.