A National First
Undergraduate Civil Engineering Student Beats Graduate and Doctoral Competitors
April 20, 2010
By Russ Hudson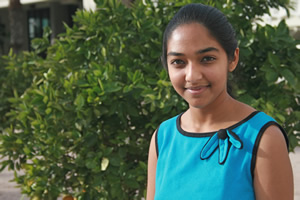 Beena Ajmera. Photo by Mimi Ko Cruz
Beena Ajmera, a senior civil engineering and mathematics major, can rightly feel proud for having won a national first-place award in Florida Feb. 23-24. She beat not only fellow undergraduates but graduate and doctoral students with her paper and poster presentations on landslides at the American Society of Civil Engineers Geo-Institute's first national student poster competition. Hers was one of the few undergraduate submissions accepted for the contest.
The second-place winner was a doctoral student from Utah State University and third honors went to a doctoral student from Mississippi State.
Ajmera's work focused on how long water-saturated slopes of various soil types could hold up without sliding under the weight of large buildings or housing developments.
"I have been working on that research topic for almost a year, conducting the required laboratory tests all through summer and winter breaks," an excited Ajmera said. "I enjoyed every moment of the research. The award itself has motivated me to work even harder."
Binod Tiwari, assistant professor of civil and environmental engineering and Ajmera's faculty adviser, said he couldn't contain his tears when her name was announced at the competition.
A jury of professional engineers judged the poster competition. Ajmera won based on the clarity of her presentation, thorough understanding of the research contents, the research quality and the quality of the poster.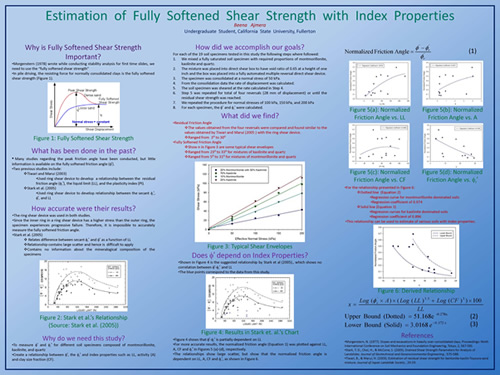 Beena Ajmera's winning poster, "Estimation of Fully Softened Shear Strength with Index Properties."