A Musical Spoof
'BatBoy: The Musical' Opens March 12 in the Young Theater
March 9, 2010
From College of the Arts
Ripped from the headlines of Weekly World News, "Bat Boy: The Musical" tells the story of a strange boy with pointy ears. While the play highlights a young boy's struggle to find a place in a world that shuns him, its also a twist on the modern-day musical comedy.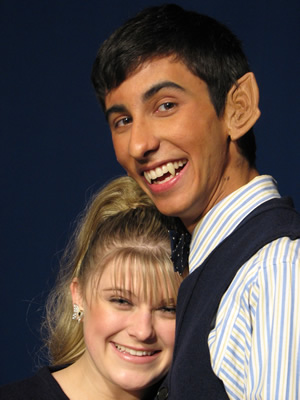 Takes from the news headlines is the play "Bat Boy: The Musical" featuring Shauni Gerner (Shelly) and Garret Hummel-Esparza (Bat Boy). Directed by Eve Himmelheber, the production runs March 12-28 in the Young Theater. Photo by Jim Volz.
"To me, the show is a 'Twin Peaks Pygmalion,'" explains director Eve Himmelheber. "I love that the show starts out as a campy spoof in the style of a 1950s horror movie and ends as a tragic love story that rivals 'West Side Story,' 'Sweeney Todd' and 'My Fair Lady.'"
A story that appeared in 1992 about a Bat Boy living in a cave was the inspiration for Keythe Farly and Brian Fleming to write "Bat Boy," which premiered on Halloween night 1997 at the Actor's Gang Theatre in Los Angeles. Touching on themes of racism, revenge, hypocrisy and acceptance, the news story spoof offers a serious look at many problems that we face on a daily basis in our society.
The cast includes Garret Hummel-Esparza, Shauni Gerner, Jill Jacobs, Jason Oles, Patrick Ortiz, Nico Ramirez, Deanna Ott, Lindsey Kelly, Rose Outllette, Laurne King, Maxwel Corpuz, Daniel Wargo, Michael Lopez, Ricky Wagner, Bradley Carnation, Kevin Rose and Dennis Bendersky.
Musical director is by Mitchell Hanlon; choreography by William F. Lett.
Scenic designer is Brad Shelton, lighting design by Nick Van Houten, costume design, Bradley Lock; the makeup-up/hair design, Marc Martinez; sound design, Rachel Sapikowski; and properties design, Bob West. Stage manager is AmyAnne Duncan.
The play opens March 12 and continues through Mach 28 in the Young Theater of the Joseph A.W. Clayes III Performing Arts Center.
Tickets for the production, which contains stage violence and suggestive sexual situations (no nudity), are $20 ($18 with advanced Titan Discount to students, seniors or those with a university ID) and may be purchased at the university box office, 657-278-3371. The box office is open from 11 a.m.-4 p.m. Mondays-Fridays and one hour prior to performance. Tickets may also be purchased online at www.fullerton.edu/arts/events.