From the Mild to the Wild
Arboretum Kicks Off Annual Monster Tomato and Pepper Sale March 19-21
March 9, 2010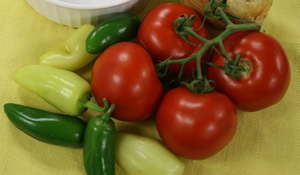 Looking for a Randy Red or a Brown Berry? They are just three of varieties of tomato plants that will be on sale March 19-21 at the Fullerton Arboretum's annual Monster Tomato and Pepper Sale.
More than 230 varieties of tomato plants will be for sale, including every size from currant to beefsteak and every color from white to black.
Featured tomatoes include:
Clint Eastwood's Rowdy Red, an heirloom tomato with intense flavor and disease resistance. It produces lots of 6- to 10-ounce, deep-red, round fruits with a robust, "not for sissies," bold flavor.
Brown Berry, a mahogany-colored cherry tomato with a semi-sweet, rich flavor with just a slight bit of acid finish over its fruity sweetness.
Purple Brandy, a high-quality, purplish-pink beefsteak that can weigh up to one pound. The smooth, creamy flesh has a delicious balanced flavor.
Over 75 varieties of peppers also will be available, including
Hottie, an extra large, orange-colored habanero-type pepper that is a little milder than most habaneros.
Bhut Jolokia, the world's hottest chili. Also known as Naga Jolokia or Ghost Chili, Bhut Jolokia is a deadly hot pepper and the Guinness World Record holder with an official Scoville heat rating of 1,001,304. It grows primarily in Bangladesh and also in northeastern India and has just become scarcely available in the United States.
A complete list of all tomatoes and peppers available for purchase can be found at the Arboretum website.
Hours for the sale are 9 a.m. to 4 p.m. March 19-21. A members only sale day is scheduled from 3-7 p.m. March 18. Proceeds benefit the Fullerton Arboretum.
For more information, call 657-278-3407 or visit the Arboretum website.