Entrepreneur Conquers Adversity
Anais Tangie Is Launching Food Business After Graduation
By Ann Shepphird
From spring/summer issue of the Indicator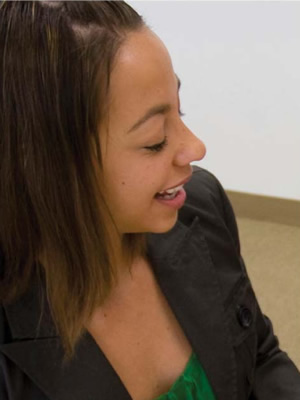 Anais Tangie
For Anais Tangie education has, literally, been a lifesaver.
Tangie grew up in a controlling and abusive environment in her native Canada but ultimately found a way out of that life through school.
"In a women's shelter, I was introduced to adult education," says Tangie. "And it was a turning point in my life."
Tangie achieved her high school diploma from the Place Cartier Adult Education Center (which named her as their honorary valedictorian) in Canada.
"Education gave me confidence, connected me with a support system and helped me establish life goals," says Tangie.
While in school, she showed her entrepreneurial spirit by launching and managing a student-run cafeteria and volunteering with mentally challenged students. "This helped me put my troubles in perspective and appreciate my life," she says.
After moving to California, Tangie attended Orange Coast College, where she maintained a 4.0 grade average and was on the President's, National Dean's and Dean's lists and received multiple scholarships, before transferring to Cal State Fullerton, where she will receive a bachelor's in business administration with a concentration in entrepreneurship in May 2010.
"I will be the first in my family to graduate with a bachelor's degree," says Tangie.
Tangie now hopes to pursue an M.B.A. in marketing at Mihaylo College of Business and Economics, but isn't waiting around for either degree to make her way in the business world. She is currently working on starting a food-service program for the autistic community and others with special dietary needs called SpecialEatsOC. The idea came from two earlier experiences: the cafeteria service she launched at the adult education center in Canada and an informal internship with a medicinal chef who cooked for cancer patients.
"I recognized what a difference a healthy meal made," says Tangie. "From then on, my mission has been to heal and nourish with food."
Tangie is in the process of planning the business, making connections and marketing the concept, and hopes to launch the program soon. Through her example, Tangie wants to show people that, with hard work and determination, anything is possible.
"I am forever grateful for my journey with CSUF," says Tangie. "It has changed my life."