Terra Cotta Living
Grand Central Exhibits "American Dream in Terra Cotta"
March 9, 2010
The current exhibit running in the Project Room of Grand Central Art Center in Santa Ana offers a realistic view of home and office — all done in reddish-brown clay.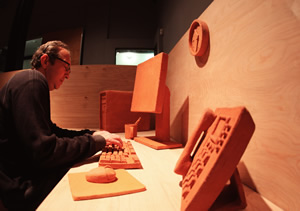 Faculty member Mike McGee tries out the terra cotta keyboard in the office setting of the exhibit "American Dream."
The installation by Orange County-based artist Jonathan Ginnaty continues through April 11.
Ginnaty recently won the 2009 Downtown Santa Ana Business District recognition award anf grant for outstanding Orange County artist for his full-scale clay-constructed office environments and installations.
"My artwork is an expression of the banal, symbolically representing my memories, life experiences and relationships," said the artist. "I make life-sized ceramic installations that recreate everyday objects and arrange them so that they visually communicate familiar environments. Producing these familiar settings is a way for me to investigate my own life and create a dialogue about universality and content in the every day."
The Cal State Fullerton Grand Central Art Center is the result of a partnership between the university and the city of Santa Ana. Located ten miles south of the main campus at 125 N. Broadway, Santa Ana, 92701, the art center is a mixed residential, commercial and educational complex.
The art center is made up of live/studio spaces for visual arts graduate students, Grand Central Gallery, Project room, Grand Central Theater, Watermark Press, Gypsy Den Café, Rental and Sales gallery, classrooms and computer lab, community room and computer lab, and a studio and living space dedicated to the center's international artist-in-residence program.