Itís a 'Jolly Holiday' for Jesse
Titan Alumnus Part of Touring Company for 'Mary Poppins'
February 8, 2010
By Valerie Orleans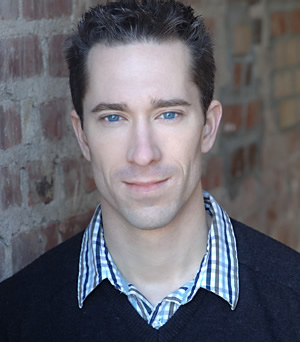 Jesse Swimm
In the mid-1990s, Jesse Swimm's heart was set on moving to New York. The actor, currently in the Broadway National Touring Company of "Mary Poppins," instead stayed home a few more years — earning a 1999 bachelor's degree in theatre arts at Cal State Fullerton. And he's glad he did.
"I wanted to go to theater school and of course, since Broadway is in New York, I applied to NYU," he said. "But I didn't get in. In retrospect, however, that was fortunate because I then enrolled at Cal State Fullerton … and I received a fantastic education! Great teachers, great venues and it was affordable. I was able to earn my degree without being saddled with debt."
This training prepared Swimm for a musical theater career that has taken him throughout Europe, America and Asia. He is currently understudying the role of Bert in "Mary Poppins" and for the past year, and has been a swing.
"As a swing, I have to be available to step in for any of 12 male actors in the show," he said. "There are 12 male performers and two swings to cover them."
Swimm — and the Mary Poppins cast — recently celebrated the first anniversary of the touring company's yearlong run … and there is more to come. Over the past year, they have made stops in Chicago, Cleveland, St. Louis, Minneapolis, Dallas, Houston and now, Los Angeles. From there, they will continue to such cities as Tempe, Denver, Cincinnati and Washington, D.C. — staying anywhere from three weeks to several months.
"This has been a great experience," Swimm said. "I love the choreography and the energy of the cast. Recently, during our stay in Los Angeles, Dick Van Dyke (the original Bert in the movie version of "Mary Poppins") joined our cast for one evening, playing the role of Mr. Dawes, senior — the owner of the bank. The audience went crazy when he came out on stage.
"Those are experiences you really treasure."
Acting in touring companies also has afforded Swimm with the opportunity to tour the world. He signed up for a six-month European tour of "Grease" … and ended up staying for two years.
"I was able to travel throughout Europe and into Morocco and Egypt during that period," he said. "I ended up staying in Europe for five years and visited 18 countries."
Swimm credits much of his success to his education at Cal State Fullerton.
"It sounds cliché, but I learned something from every teacher," he said. "Dr. Joe (Arnold), Dean Hess, Jim Taulli, Mitch Hanlon — so many of them … they all had an influence on my career."