All-Star Wrestling Classic
Titans Host 44th Annual National Tournament Nov. 22
November 17, 2009
By Sports Information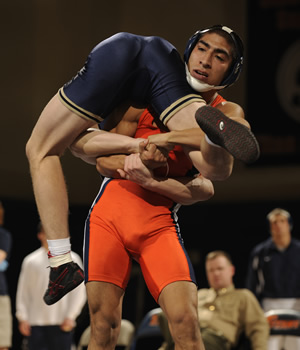 Cal State Fullertonís Adin Duenas, third in the Pac-10 last year, will face Pac-10 Champion Elijah Nacita of Cal State Bakersfield in an exhibition bout prior to the NWCA All-Star Classic Nov. 22 in Titan Gym.
A rematch of the 2009 NCAA Wrestling Championship bout at 197 pounds between champion Jake Varner of Iowa State and runner-up Craig Brester of Nebraska highlights the list of matches to be held Nov. 22 at the 44th National Wrestling Coaches Association All-Star Classic in Cal State Fullerton's Titan Gym.
The field of 20 nationally ranked wrestlers (all in the top seven) plus six highly regarded competitors from local schools was announced Nov. 2. The host Titans will be represented by Adin Duenas and John Drake. Duenas will face Elijah Nacita of Cal State Bakersfield in a featured 141-pound bout and Drake faces Riley Orozco of CSUB at 197.
The Wrestling Alumni - College of William & Mary are sponsoring the event, which supports collegiate wrestling at every level. Many programs are threatened with extinction, including Fullerton's. William & Mary had its first and only All-Star Classic participant in 1975 but its continues to pledge its support.
Notably joining the ranks in 2009 with their first ever NWCA All-Star participants are American University with Kyle Borschoff (149), Bucknell with Andrew Rendos (165) and Binghamton with Josh Patterson (184).
These three programs are no strangers to adversity as Bucknell and Binghamton were both programs that were dropped and — due to diligence of alumni — reinstated. American also fell on some tough times as the program was being evaluated with the potential to be eliminated. Over the past few years these three programs have been on the rise with National Champions, All-Americans, All-Academic Team Members and more importantly support behind their programs.
In the numbers game, Oklahoma State has had the most participants in event history with 81. Iowa comes in close behind with 74 and Iowa State with 69.
Matt Moley of Bloomsburg will join other Huskies of the past as the seventh Bloomsburg wrestler to compete in the event, the last being Dave Morgan in 1989.
Chris Henrich will be the third University of Virginia wrestler in the event. He is preceded by his current coaches, Steve Garland (2000) and Scott Moore (2004).
Joining Varner as returning national champions this year are Nebraska's Jordan Burroughs (157) and Missouri's Mark Ellis (285).
From past experiences Kirk Hankla, wrestling alumni from William & Mary, knows that "it is much harder to start or re-start a wrestling program than to save one that is still in existence. When wrestling was dropped at William & Mary, a knife of sorts was driven in to the cores of our souls; it twists each time another wrestling program is dropped. Given what wrestling has meant to us, we have resolved that we will do what we can to see that the mistake which was perpetrated by the College of William & Mary is not repeated again and again. We hope that you will join us, a group of former collegiate wrestlers that attended a university on the other side of the country, to save wrestling at Cal State Fullerton."
2009 NWCA All-Star Classic competitors:
125: #2 Anthony Robles (Arizona State) vs. #4 Zach Sanders (Minnesota)
133: #4 Steve Bell (Maryland) vs. #5 Daniel Dennis (Iowa)
141: #2 Nick Gallick (Iowa State) vs. #3 Alex Krom (Maryland)
149: #2 Lance Palmer (Ohio State) vs. #5 Kyle Borshoff (American)
157: #1 Jordan Burroughs (Nebraska) vs. #2 Matt Moley (Bloomsburg)
165 :#4 Jonathan Reader (Iowa State) vs. #6 Andrew Rendos (Bucknell)
174: #2 Chris Henrich (Virginia) vs. #7 Stephen Dwyer (Nebraska)
184: #4 Max Askren (Missouri) vs. #5 Josh Patterson (Binghamton)
197: #1 Jake Varner (Iowa State) vs. #2 Craig Brester (Nebraska)
285: #1 Mark Ellis (Missouri) vs. #5 David Zabriskie (Iowa State)
Featured Bouts:
141: Adin Duenas (Cal State Fullerton) vs. Elijah Nacita (Cal State Bakersfield)
184: Zach Giesen (Stanford) vs. Enoch Francois (Cal Baptist University)
197: John Drake (Cal State Fullerton) vs. Riley Orozco (Cal State Bakersfield)
The 44th Annual NWCA All-Star Classic begins at 2 p.m. Tickets can be purchased through TicketLeap.