Weili Lu Honored By Pacific Life
Insurance Company Awards Grant in Support of Campus Center
February 17, 2009
By Pamela McLaren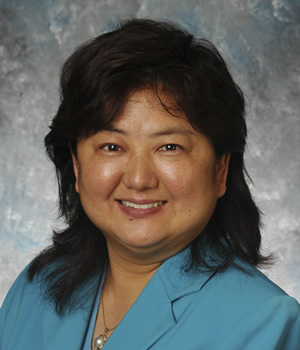 Weili Lu
The Pacific Life Foundation has honored Weili Lu, director of Cal State Fullerton's Center for Insurance Studies, with the Walter B. Gerken Community Service Award in a special presentation made during the organization's annual grants reception Jan. 26.
The honor, along with a $25,000 grant, was presented to Lu by Pacific Life Foundation Chairman Jim Morris and President Bob Haskell. The annual award is named after the former CEO of Pacific Life and honors philanthropic commitment to the community.
In addition, the foundation also awarded a $30,000 grant in support of the center and the university's insurance/actuary program for undergraduates.
Pacific Life Insurance has been involved with the Center for Insurance Studies since its inception in 1998 and has contributed more than $300,000 to the program during the past decade. The center was established to attract and educate talented individuals committed to professional careers in the insurance and financial services industry.
Since it was founded, the campus center has received the support, as well as active participation, of industry leaders in developing programs and curriculum to insure that graduating business students interested in the field are prepared in use of technology, communications, interpersonal skills and sound business practices, said Lu.
"I am most pleased with the support our center has received over the years," Lu said. "More and more students are becoming interested in the insurance and actuary fields and we have been able to offer more scholarships, more internships to them. The end result is that many of our students are applying and getting jobs in the full range of careers within the insurance industry — and insurance companies are getting work-ready graduates ready to contribute from day one.
"That type of success comes from the teamwork and partnership we have with companies like Pacific Life," added Lu, who was the first woman from China to earn a doctorate in insurance (from the University of Illinois, Urbana-Champaign, where she also earned a master's degree in addition to a master's in international business from the University of Nankai).
Lu teaches risk management and insurance, international finance, corporate finance and investment. Most recently, Lu joined another finance faculty member and a team of graduate students to develop a database that carries financial information on more than 500 insurance companies operating throughout Asia.