Just Say When
Researchers Hope to Predict Volcanic Eruptions
April 28, 2009
By Russ L. Hudson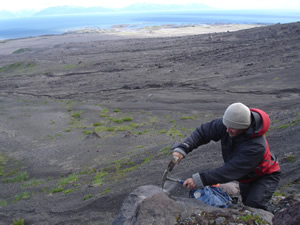 Arron Steiner hammers loose lava samples at Mt. St. Augustine.
Timing is everything with natural disasters, and earlier and more accurate warnings can save lives and property. Two Cal State Fullerton volcanologists are working to improve efforts to predict volcanic eruptions.
Mt. St. Augustine is one of Alaska's volcanic islands and is situated at the mouth of Cook Inlet, with Anchorage less than 200 miles away and coastal towns between. Brandon Browne, assistant professor of geological sciences, first saw Mt. St. Augustine in 2002 while in Alaska for an international conference.
"I got a look at older lava flows from the Mt. St. Augustine volcano, uncovered by erosion, that offered evidence suggesting that Augustine had changed its eruption pattern over the last few thousand years," Browne explained.
The waves had done naturally what geologists often must spend time and money to do. Browne wanted to go back, but needed to finish other projects and find a co-researcher.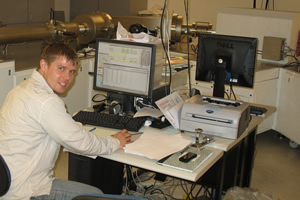 Arron conducting analysis of lava samples in the lab, the less glamorous side of research.
Enter Arron Steiner, a young, budding volcanologist Browne met at a scientific conference in 2007. Hearing of Browne's interest in fieldwork at Mt. St. Augustine, Steiner expressed interest in pursuing graduate work under Browne. While waiting for admission to Cal State Fullerton's graduate program, Steiner began researching the literature.
The pair set out to discover how different types of molten rock mixed in island's magma chamber. They worried that a landslide on Mt. St. Augustine could cover the exposed layers, or that the release of ash and/or toxic gases from nearby volcanoes might soon make their work impossible. Unwilling to postpone their work for the year or more it would take to get research funding, the two began planning their trip.
By using frequent-flyer miles to defray the cost of tickets, staying at a friend's house in Anchorage and hitching rides to the site with U.S. Geological Survey and Alaska Volcano Observatory researchers and otherwise living frugally, the two kept out-of-pocket expenses for their initial field work last August to a minimum.
Brandon Browne, left, and Arron Steiner make their way along one of Mt. St. Augustine's slopes.
In addition to the exposed geologic record of Augustine's prior eruptions, available data included written records of its eruptions for the last 193 years and decades of recorded seismological information from the U.S. Geological Survey. Layers of lava can establish the time it took for magma to force its way to the surface in earlier eruptions compared to more recent volcanic eruptions on the island. Analysis of older flows showed eruptions were at least several decades apart and were more explosive; currently eruptions are occurring about a decade apart. By comparing distribution and composition of another volcano's lava to lava from different time periods at Augustine, the researchers believed it would be possible to determine more closely how much seismic activity will precede an eruption.
The data applies to volcanoes around the world, said Browne and Steiner. It applies especially to stratovolcanoes, the conical mountains most often seen in movies and books, but magma mixing is a more important factor than the shape of a volcano.
Last December, Browne landed a $5,000 Junior Faculty Grant to carry the research forward. Steiner will draw from the grant to continue the research through the end of the academic year as part of his master's degree project. Remaining funds will be used for others to continue the research during the 2009-10 academic year.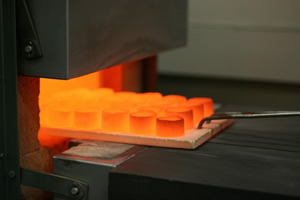 One part of the analysis of lava samples can be heating them in a specialized oven to test their properties.
Also last December, Steiner won the prestigious Outstanding Student Presentation Award at the American Geophysical Union Conference in San Francisco using the Augustine findings.
Browne and Steiner's work on Augustine and their subsequent data analysis have given them a clearer understanding of how different types of molten rock mix in the magma chamber under the volcano. Mixing is key to predicting, they say, because mixing means motion, and motion means an eruption. The only question is when.
The assistant professor and graduate student will head back to Augustine in June. They will present their findings at the 2009 Japan-Kamchatka-Aleutian Subduction Processes Conference in Fairbanks and Browne has been asked to lead a post-conference field trip to Augustine, providing the two campus researchers with the opportunity to return to the volcano's slopes that inspired their project.
Browne joined Fullerton's faculty in 2005. He earned his doctorate in geology from the University of Alaska, Fairbanks. His doctoral thesis was on magma mingling and magma ascent at volcanoes in Alaska, Japan and Kamchatka, Russia.