Supplying Surprise
Veronica Chiang Designs Exhibitions to Amaze and Intrigue Library Patrons
December 15, 2009
By Pamela McLaren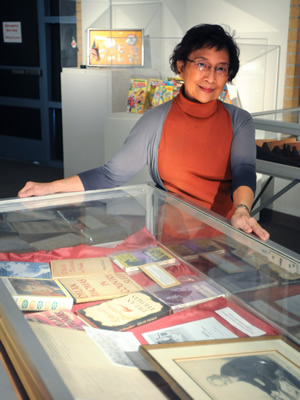 Veronica Chiang
For more than 30 years, Veronica Chiang has designed exhibits to amaze, surprise and intrigue.
Her latest, "What's Hidden in the Library?" gives viewers a taste of some of the 65 special collections housed in the Pollak Library — from science fiction and television manuscripts to comic books, maps, local history and rare books. The exhibit is showcased in the library's west Atrium Gallery.
"I basically want to do things that I haven't done before. To choose an exhibit theme that I can work with from scratch — researching, locating items, designing and installing objects in our exhibit spaces in a way that drives students' interest," said the veteran curator, who has been described as "a veritable dancing eclectic, a human collage of interests ranging from science to fine arts, from technology to humanism. "I look for the stories that are worth telling."
Showing artifacts that people can view up close is so much more impressive than seeing pictures of them online or in print, Chiang said.
Like seeing a 12-layer kimono, displayed so you see the various layers and how they work together; a moving, 20-foot-long robotic tarantula as an example of the advancements in animatronics technology; or a copy of Samuel Johnson's Dictionary of the English Language published in 1755.
"One student wrote (in the exhibit guest book) how surprised and pleased she was to be able to see the Johnson Dictionary," said Chiang. "Young people can appreciate the more historic things when they come face to face with it."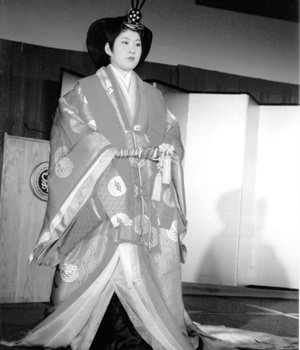 A model displays a 12-layered kimono, a ceremonial ensemble for ladies of the court during the Heian period (794-1192) that today is worn by Japan's royal family for special occasions. The gown was one of several brought over from Japan for the 2002 exhibit "Kimono: The Wearable Art of Japan." Photo by Patrick O'Donnell
Through her exhibits, Chiang has shown the changing face of Orange County, its agricultural history and the growth of Cal State Fullerton. For the 40th anniversary of the university, she took photos of the university's history and mounted them on rotating cubes that she then made into a giant abacus. For the 50th, she commissioned a conceptual architectural model, "Green Vision" created by Michael Jantzen. Both can be found in the east wing section of the Atrium Gallery.
When she was hired at Cal State Fullerton, Chiang was asked to develop an art book collection for the library. Her first exhibit was of her own Asian pieces, as well as borrowed items. In those days the exhibits were smaller — housed simply in two long, locked wall cases off the then-south entrance to the building.
Chiang was born in a town between Hong Kong and China, with the status of a British subject. She was educated in Hong Kong and Taiwan, receiving a bachelor's degree from Tam Kang University before coming to the United States and earning a master's degree in library and information science from USC. She eventually returned to USC to get a second master's degree in art and film. Part of her studies were in exhibit design.
"If you want to put up an exhibit, you can just do it, but to do so in a more professional manner, you do need certain knowledge and skills in order to place the pieces to create a more interesting and educational show," she stressed. "You have to think broadly and creatively — like the (1997) 'Tea Party' exhibit, which had examples of tea pots, cups and other implements used in tea ceremonies, as well as tea-related art, from throughout the world."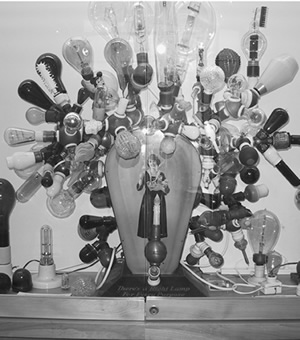 Unusual natural objects, extraordinary works of human ingenuity and rare collectibles made up the 2001 exhibit "Images Extraordinaires." Photo by Patrick O'Donnell
For that exhibit, Chiang also displayed various varieties and forms of tea, from leaves and leaves shaped into flowers to tea formed into brick tablet with inscriptions. She traveled to San Francisco and worked with a tea importer to get samples that reflect the breadth of tea served in homes as well as special ceremonies. She also arranged for a formal Japanese tea ceremony performed by a tea master during the opening reception.
"I travel quite a bit up and down the coast and far away to other countries inviting artists, looking for new ideas and collections that might allow their pieces to be shown," noted Chiang. "I also work a lot with graduate students. I love working with students — they are very talented and fun to meet. I become very proud of them and keep track of them after they have graduated."
In 1996, Chiang was able to establish a designated space for the library's exhibits. She asked the architect working on the expansion of the library to include an official gallery.
When the building was completed, she curated a special exhibit for the library's opening. It was all about "Automata," the creation of moving figures and the development of automation. She included items to showcase the technology from its earliest days — whirligigs and clocks in which figures and animals danced or sang — to a giant robotic spider whose eyes flashed and legs moved. It was so big that she and a crew of volunteers had to disassemble some of the legs and the doors to the library in order to get it to the display area.
With the current exhibit, as with some of her other shows, "I didn't want to explain everything in great detail. I want to create intrigue," she said. "There's a hidden purpose: to get people to explore the collections and want to learn more and to enhance their education through the experience of seeing an exhibit that brings different thoughts and ideas together. If it does this, I am happy."
Related Story