Serving More Than Meals
Food Court Manager Uthai Thiranop Being Hailed a Hero
August 25, 2009
By Mimi Ko Cruz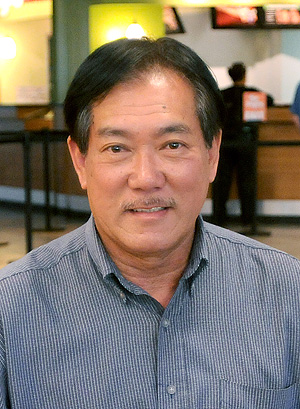 Uthai Thiranop
Age: 57
Residence: Fullerton
Occupation: Cal State Fullerton food court manager
Family: Wife, Otty, and two sons, Jonathan, 18, and Phillip, 15
Hobbies: Fishing and helping friends and neighbors in need
Motto: "Live life to the full extent and be kind to others."
"You're my hero!" a student told Uthai Thiranop in the Titan Student Union food court.
"I'm no hero," responded Thiranop, the food court's manager. "I just wanted to help my neighbor."
His valiant efforts to try to save a neighbor from her burning house recently are being lauded by friends, and TV news programs and local newspapers ran stories about the incident.
At 7:15 p.m. Aug. 5, Thiranop and his 18-year-old son Jonathan were watching a DVD in their living room when they noticed smoke coming from a neighboring house, where 71-year-old Mystle Coulson lived with her daughter, Heather, according to the Orange County Register.
The daughter's back was on fire so Jonathan Thiranop, a Cal State Fullerton kinesiology major, grabbed blankets from his home to cover her and put out the flames. She suffered severe burns and is being treated at UCI Medical Center, fire officials reported.
Uthai Thiranop had asked the daughter: "Where's your mom?"
"I think she's dead," he said she told him.
The elder Coulson was stuck inside the burning house so Thiranop and a couple other neighbors tried to go inside but, even after breaking down a door and a window, a number of piled up boxes blocked entry.
Firefighters took over the rescue effort minutes later, but Mystle Coulson did not survive.
Thiranop, 57, has lived a few blocks from campus for 12 years, as long as he's worked at Cal State Fullerton.
He moved to the U.S. from Thailand in 1972 and soon after received his bachelor's degree in accounting from Pacific State University in Los Angeles. He worked as a supervisor at an oil company and as a store manager at a West Los Angeles McDonald's before becoming a staff member on campus.
His neighbors and co-workers know him as an avid angler who loves to share his catches.
"I go fishing almost every weekend in Big Bear," Thiranop said, adding that the biggest fish he's caught was a 7.25-pound rainbow trout, which he gave to an elderly neighbor last month.
"I catch my limit — five fish each weekend — and I like to give them away," he said. "It makes me happy."