Making a Difference
Upward Bound Students Help Seniors in Need
August 4, 2009
By Debra Cano Ramos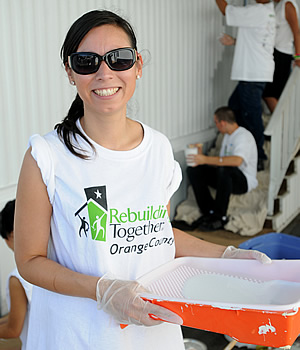 Hortencia Cuevas, director of Upward Bound, organized a community service project for the program's high school participants. The students spent a hot day in July painting the mobile homes of elderly homeowners as volunteers with Rebuilding Together Orange County. "Community service is an important part of their education," Cuevas said. Photo by Kelly Lacefield
With paint brushes in hand and a willingness to help others, 30 high school students from Santa Ana spent a hot summer day sprucing up the mobile homes of senior citizens in need.
The students, participating in Cal State Fullerton's Upward Bound Program, wore old shoes and clothes and worked with Rebuilding Together Orange County, a volunteer-based home repair and improvement nonprofit organization, to paint the homes.
They helped fix up mobile homes owned by older adults who are unable to make much needed upgrades and safety repairs to their homes. Rebuilding Together provides the services at no charge to low-income homeowners and counts on volunteers to perform the work.
Hildegard Miller, 85, who has lived at the Orange mobile home park for 27 years, peered out the door of her faded gray coach and smiled as the Upward Bound students brushed the exterior with a fresh coat of white paint.
Miller praised the teens for wanting to help.
"It's nice that they're volunteering their time," Miller beamed. "I'm very grateful."
Helping Hands
For the Upward Bound students, they were just as glad to lend a hand.
"I enjoy helping people," said Valley High School sophomore Josue Barajas, 15, who joined the Upward Bound Program last fall. "I really like making people smile — and making a difference."
Manuel Ramos, 16, a senior at Santa Ana High School and an Upward Bound participant since his freshman year, added, "It's important to help the elderly. I feel like we're doing something special for them."
Upward Bound, a federally funded program, is designed to prepare high school students for a college education. This is the first year that Upward Bound participants are performing volunteer work in the local community, said Mark Kamimura-Jiménez, Cal State Fullerton's director of educational partnerships. He was among the 10 university staff members who also volunteered.
"We wanted to include a community service component to the program because we want these students to think about what they can do to help better their communities, and to know that they can make a difference in somebody else's life," Kamimura-Jiménez said. "When they get to college, we want them to understand the impact that their education can have in the community."
As part of the program's new community service effort, the students also are visiting senior citizens living at a Fullerton Gardens, a residential care facility. Students spend time playing board games, performing skits and music, giving manicures and leading other entertaining activities with the residents, many of whom have Alzheimer's disease, said Hortencia Cuevas, Upward Bound director.
"While the primary goal of our program is to help students pursue a college degree, we believe that giving them opportunities to serve their community is also an important part of their education," Cuevas said, adding that the goal is to give them academic, social and cultural activities to succeed in high school and overcome barriers to attain higher education.
Federal Support
The university recently received $345,000 from the U.S. Department of Education for Upward Bound — part of a $1.4 million, four-year grant awarded in 2008. The program is offered to students in 9th-12th grade at four high schools in Santa Ana Unified School District.
Each summer, Upward Bound students participate in a six-week residential program, which continues through July 31, where they live in dorms and experience college life, receive academic instruction in math and English, and take educational and fun field trips.
In another first for the program, the students will be attending Disney's Youth Education Series, which help students get a better understanding of various school subjects through attractions and experiences at its theme parks.
The Upward Bound participants will take part in the July 31 "Disney Leadership Action: Pursuit of Excellence." They will discover Walt Disney's "secret of making dreams come true" and his vision of leadership, as well as learn how to develop their own leadership skills, Cuevas said.
"They will be challenged to step out of their comfort zone and understand the importance of diversity, they will work together in teams and become confident in how to make their dreams a reality and achieve the impossible," Cuevas said.
Throughout the year, Upward Bound participants are exposed to the various systems of higher education both regionally and statewide. they also receive academic, career and personal counseling, after-school tutoring and attend college preparatory courses.
Realizing a Dream
Ramos has dreamed of going to college since a young boy — and Upward Bound is helping him to realize his goal, he said. Ramos would be the first in his family to go to college and wants to study mechanical engineering, with hopes of designing cars one day.
"Upward Bound has helped me to get better grades and prepare me for college," said Ramos, who has a 3.87 GPA.
Cynthia Hernandez, 17, has her sights on becoming a teacher and also credits Upward Bound for making her career goal achievable.
"The program has made me think about what I have to do to prepare myself for college," said Hernandez, a senior at Saddleback High School who has two older brothers at Cal State Fullerton.
Raised by a single mother who works in a warehouse, Barajas knows the importance of getting a college education and a good job.
"Upward Bound is giving me the opportunity to get into college," said Barajas, who wants to be a pediatrician or psychologist. "It's a great program."