'Teaching Hope'
Guardian Scholar Alum Pens Story in New Freedom Writers Book
August 25, 2009
By Debra Cano Ramos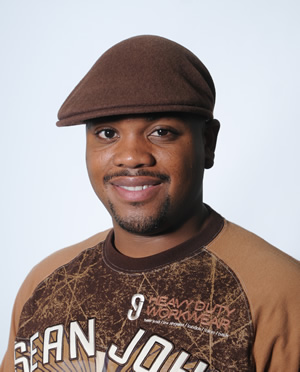 Torhon Barnes, Cal State Fullerton graduate and Guardian Scholar alumnus, is one of the authors of the new book, 'Teaching Hope.' Photo by Kelly Lacefield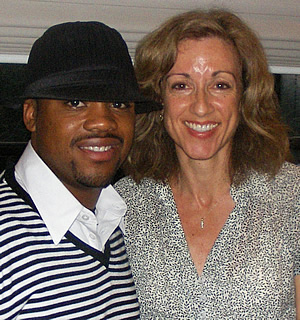 Giulii Kraemer, coordinator of the Guardian Scholars program, with alumnus Torhon Barnes, one of the authors of the new Freedom Writers Teacher book, 'Teaching Hope.'
Former foster youth Torhon Barnes was 9 years old when that one teacher made a difference in his life.
His mother could no longer care for him. His father was in prison. He was thrust into the foster care system and went to live with relatives in Compton.
Barnes was angry, upset, confused — and showed his emotions in the classroom.
"I was very difficult in class," admitted Barnes, a 2008 Cal State Fullerton graduate. "I acted out my frustrations in school."
But Barnes' fourth grade teacher, Mrs. Ford, gave him some good advice he never forgot.
"She told me, 'If you don't do it for yourself, no one else will do it for you.' It wasn't exactly those words, but something like it. I had to let go of my family problems and take accountability for my actions and my future.
"I focused on learning; education was my coping mechanism. When things got difficult, school was my constancy."
Today, Barnes tries to be that teacher who makes a difference with his students — current foster youth and young adults who have left the foster care system. As an independent living skills teacher, he teaches them the skills they need to lead successful lives.
Barnes tells his experiences of being a "nontraditional" teacher in the new book "Teaching Hope: Stories From the Freedom Writer Teachers and Erin Gruwell," published by Broadway Books and available Aug. 18. The forward is by Anna Quindlen, a Pulitzer Prize-winning journalist and author.
Written by 150 teachers from across the United States and Canada, each author penned an anonymous story of teaching students in and out of traditional classrooms.
The book is intended to provide support to current educators working with so-called "unteachable" students, Barnes said.
"As Freedom Writer teachers, we want to have an impact on the nation's educational system," Barnes explained. "The purpose of 'Teaching Hope' is to spark a powerful dialogue about education among teachers, students, politicians and people across the world."
For Barnes, 26, his entry is about his experiences in helping to transform the lives of disadvantaged youth.
"My desire to mentor them comes from my own experience of being in foster care," he said. "The kids I mentor trust me, confide in me, and I hope they take heed to what I am teaching them. I want to inspire and motivate them to rise above life's challenges."
Despite the challenges he faced throughout his own childhood, Barnes was determined to achieve his academic goals and follow his passion to teach.
Barnes earned a bachelor's degree in child and adolescent studies and is an alumnus of the university's Guardian Scholars Program that assists former foster youth attain a college education. He is currently working on a master's degree in social work at USC and plans to complete the program in May 2010.
His goal is to become a school counselor so he can pursue a career working with disadvantaged youth.
He credits the Guardian Scholars Program, along with United Friends of the Children — a Los Angeles organization that provides support services to current and former foster youth — for giving him the guidance he needed to succeed in college and in life.
"The Guardian Scholars Program helped to shape who I am today," Barnes said, adding that program staff members, including coordinator Giulii Kraemer, gave him much-appreciated support and encouragement throughout his Cal State Fullerton education.
"Giulii was like a mother figure to me. She looked after me," he said.
Kraemer called Barnes "exceptionally bright, warm and compassionate, all of which was demonstrated through his leadership role in the Guardian Scholars Program, his work at Orangewood Children's Foundation and his commitment to assist foster youth.
"I truly believe that Torhon will go on to do great things in his life and it is my privilege to know him. He is an inspirational young man."
While in the Guardian Scholars Program, Barnes began volunteering as a peer mentor at Orangewood Children's Foundation in Santa Ana. For the past four years he has served as a powerful role model to foster youth and continues to teach independent living workshops.
Barnes learned about the Freedom Writers Foundation, founded by teacher Erin Gruwell, by happenstance. Gruwell, the inspiration behind the bestseller and feature film "The Freedom Writers Diary," spoke at an Orangewood Children's Foundation event.
In December 2007, Barnes attended the Freedom Writers Institute, which promotes innovative teaching. He also began keeping a journal about his work with foster youth.
Expressing his feelings and thoughts in his journal, and ultimately, in writing the book entry, was therapeutic and healing for him.
"I had repressed a lot of feelings. It was a difficult process, but also a release for me."
Since all of the book's entries are anonymous, Barnes cannot reveal what he wrote about, but hopes that the personal stories will be an inspiration to teachers and students alike to turn their tragedies into triumphs.
"I hope my story inspires others to never give up on any child no matter how difficult he or she may be — or seem to be," Barnes said. "I would like each teacher to look beyond the current situation and/or behaviors and try to see a future for each child they encounter because you can never completely know what that child may be experiencing."
Barnes will sign copies of "Teaching Hope" beginning at 2 p.m. Aug. 30 at Barnes & Noble Booksellers at the Grove in Los Angeles.