What's the Rush
One More Week for Main Gallery Exhibit
December 8, 2009
If you're interested in an art exhibit that's about convenience, the rush is on. "What's the Rush? Topics on Convenience" runs through Dec. 16 in the Visual Arts Center Main Art Gallery.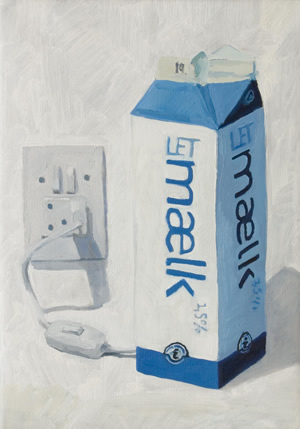 Potential Expiration, oil on canvas, was created by Henriette Sonne.
The artists participating in the exhibit explore a pop art approach to common objects designed for convenience in a fast-paced world. Through photography, sculpture and painting a larger-than-life focus is placed on side effects of the current culture and its love affair for all things convenient.
Featured artists include Susan Jane Belton, Derek Buckner, Chris Jordan, Kevin Landers, Henriette Sonne, Maya Sutter and Chris Wright. This exhibit is curated by Krystal Glasman and Elizabeth C. Tallman.
Gallery hours are noon-4 p.m. Mondays through Thursdays and noon to 2 p.m. Saturdays. For additional information, call 657-278-7750.