Titans Send Four Athletes to NCAA Track Finals
Two Women Are Among the CSUF Qualifiers
May 31, 2009
From Sports Information
Four Cal State Fullerton athletes have qualified for the NCAA Track and Field Championships, including females for the first time since 1995.
Lauren Williams in the 100 meter hurdles and Jameena Hunt in the discus will be the first Titan women in the championship meet since distance runner Heather Killeen in 1995. They will be joined in Fayetteville, Ark., by high jumper Johnathan Golden and triple jumper Garrett Myers. The finals begin June 10. All four placed in the top five in their respective events last weekend at the NCAA Western Regional Meet at the University of Oregon.
Williams was clocked in 13.25 seconds to trail only Shalina Clarke of USC, who ran 13.17. Myers jumped 50 feet, 9 1/2 inches to place fifth and also earn his first berth in the finals. Golden qualified for the fourth time in four years by clearing 7 feet, 1 inch while Hunt qualified for the first time by beating her career best by 14 feet on Friday with a throw of 173 feet, 9 inches to finish second.
Fullerton's women's 400 meter Big West Conference runnerup Ciara Short ran sixth in her event and has only a long shot chance of qualifying based on times at other Regional meets.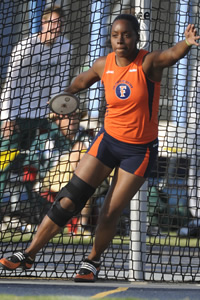 Jameena Hunt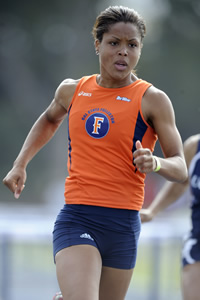 Lauren Williams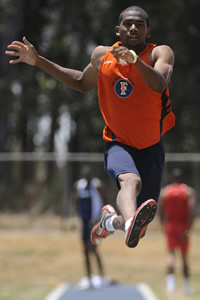 Garrett Myers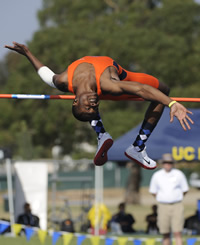 Johnathan Golden