Titan Tribute
Five Inductees Honored at Athletic Hall of Fame Event
September 29, 2009
Every two years, Cal State Fullerton honors members of its outstanding athletics division at the Titan Athletics Hall of Fame event, "Titan Tribute." The event recognizes the honorees and celebrates the university's rich athletic history, including 12 national championships.
This year's Saturday, Oct. 10, event in Portola Pavilion of the Titan Student Union will honor professional football's career passing leader, a national softball player of the year, a nine-time All-American gymnast, the left-handed pitcher who helped change the complexion of West Coast college baseball and the father figure for Titan football during its final 13 seasons.
Damon Allen, Connie Clark, Barbara Myslak-Roetert, Dan Boone and Coach Gene Murphy, respectively, comprise the third class of inductees. All are scheduled to attend the biennial event.
"The collective accomplishments of this class, both at Cal State Fullerton and in their post-collegiate careers, is remarkable," said Brian Quinn, director of athletics. "Any university in the country would be justifiably proud of the caliber of people in this group."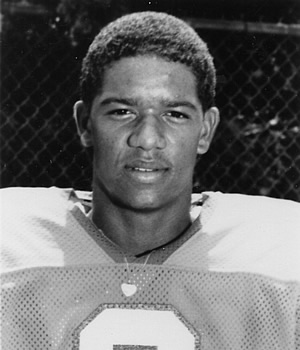 Damon Allen
Damon Allen
Damon Allen was a four-year quarterback (1981-84) and three-year pitcher (1983-85) at Cal State Fullerton. He led the football team to its only two conference (Pacific Coast Athletic Association) championships in 1983 and 1984, earning votes as a senior for the Heisman Trophy and setting an NCAA record for fewest pass interceptions in a season (.009 intercepted). He is the top Titan in passes attempted (629) and total offense (4,653 yards), and is ranked No. 2 in passing yards (4,218) and pass completions (322). He is fourth in touchdown passes (27).
The San Diego native went on to become the most prolific passer in professional football history with 72,381 total yards in 23 seasons (1985 to 2007) in the Canadian Football League. Allen also rushed for 11,920 yards to rank third in CFL history. He won four Grey Cup Championships and won the league's MVP Award as a 41-year-old grandfather in 2005.
In addition to football, Allen was a member of the Titans' 1984 national championship baseball team as a spot starter and relief pitcher with a record of 3-2 with four saves in 50 innings. He was drafted in 1984 by the Detroit Tigers, who pursued him until the first day of fall classes. In 1994, he had a brief tryout with the Pittsburgh Pirates before returning to play football.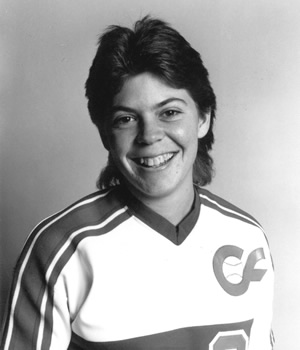 Connie Clark
Connie Clark
Connie Clark pitched for the Titan softball program for two seasons, including the 1986 national championship campaign. She won 20 games as a junior and 33 as a senior in 1987 when she won the Broderick Award, presented to the nation's best collegiate softball player.
Clark was at her best in the 1986 post-season, hurling four shutouts in four starts. She beat Cal Poly Pomona in the NCAA Regional and then blanked Long Beach State and Texas A&M twice at the College World Series, where she made the all-CWS team. She beat the Aggies in the title game, 3-0, and led the nation in ERA at 0.18.
A transfer from Central Arizona Community College where she was an All-American as a sophomore with a 24-2 record, Clark's Cal State Fullerton career record was 53-7 with an earned-run average of 0.37. She still holds the university single-season records for lowest opponent batting average (.086 in 1986) and most strikeouts per seven innings (8.88 in 1986). Only Kathy Van Wyk (with 35 in 1982) won more games in a season and only fellow Hall of Famer Susan Lefebvre (with 34 in 1986) had more complete games in a season than Clark's 32 in 1987.
In career average statistics, despite only two seasons as a Titan, Clark ranks seventh in wins, second in winning percentage (.883) and fourth in shutouts (34). She is ranked No. 1 in opponent batting average (.121) and fourth in strikeouts per seven innings (7.31).
The Glendale, Ariz., native graduated in 1988 and gave private lessons locally before beginning her collegiate coaching career as an assistant at Florida State (1990-95). She was hired to launch the softball program at the University of Texas, Austin, as head coach and in the second varsity season (1998) led the Longhorns to the Women's College World Series. Her 13-year record at Texas is 509-245-3 (.674).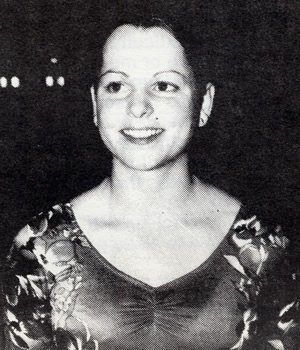 Barbara Myslak-Roetert
Barbara Myslak-Roetert
Barbara Myslak-Roetert was one of the building blocks of the Titans' successful women's gymnastics program. She was a four-year (1977-80) letter winner during her collegiate tenure: her dual meet record was 52-2 with four conference championships, four regional titles and four top four finishes at the AIAW nationals including the championship in 1979.
At the 1979 AIAW finals in Pennsylvania, Myslak-Roetert won the individual national championships on the vault and uneven parallel bars, was third on floor exercise and placed fourth on balance beam to finish second in the all-around. The Titans defeated host Penn State by one-tenth of a point for the university's first Division I crown.
During her Titan career, Myslak-Roetert earned a total of nine All-American awards – on vault, bars and the all-around in 1978, on all four events plus the all-around in 1979 and on bars in 1980. She also won four individual regional championships (bars in 1978; bars, vault and all-around in 1979) and four conference championships (floor in 1977 and 1978 and vault and bars in 1979).
Prior to attending Cal State Fullerton, Myslak-Roetert competed in the Olympic trials in both 1972 and 1976. She was an alternate in 1974 on the United States' world championship team that competed in Varna, Bulgaria, under the direction of Coach Muriel Grossfeld. In 1975, she represented the United States again and competed in both Russia and South Africa.
Dan Boone
Dan Boone was the key player as Coach Augie Garrido launched the Titans' Division I baseball program in 1975. The 5-foot-7 left-hander, who is a distant relative of the fabled frontiersman of the same name, transferred from Cerritos College and compiled a 22-6 record for the Titans in 1975 and 1976 with a 2.29 career earned-run average, the fourth best in university history.
Boone's defining moments came at the 1975 NCAA Regional at USC, where the Titans would face the five-time defending national champions on their home diamond. Boone beat the Trojans 3-1 with a complete game in the opening round. He then came back two days later in the eventual title game against Pepperdine, entering in relief in the third inning to finish a 6-4 victory that sent the Titans to Omaha for the first time. He still holds the university's single-season record with 13 complete games in 1975 and is third on the career list with 19 despite playing only two seasons.
Boone was a member of the National Baseball Congress all-tournament team in 1975 for Anchorage and was selected five times in the major league player draft, finally signing with the Angels. He made the big leagues in 1981 with San Diego but was traded in the middle of the 1982 season to Houston and was out of baseball by 1984.
He came back to pitch in a senior league in Florida in 1989 and attracted the attention of the Baltimore Orioles. They signed him to a minor league contract where he eventually pitched a no-hitter at the Triple A level. The Orioles called him up to Baltimore late in 1990 and he made four appearances, including his only major league start. His major league record for 61 appearances was 2-1 with 4 saves and a 3.36 ERA.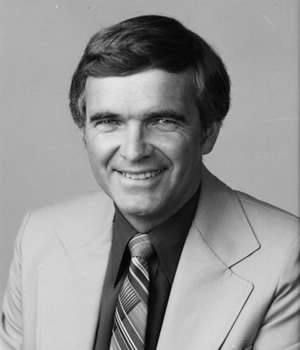 Gene Murphy
Gene Murphy
Coach Gene Murphy was the face of Titan football for its final 13 seasons (1980-1992) and even served as interim director of athletics during the summer of 1981.
Despite having no home stadium until the final year and very little in the way of resources, Murphy built a program that in a span of seven years (1983-89) won consecutive conference championships (1983 and 1984) and finished in second place four times. He led the Titans to their only bowl appearance — the 1983 California Bowl in Fresno vs. Northern Illinois — and his 1984 team was 11-1 on the field (12-0 after a forfeit from University of Nevada, Las Vegas) and ranked in the national Top 20. His career record was 59-89-1, 31-19 at home and 28-70-1 on the road, where the Titans helped finance the program with large guarantees.
The New Jersey native, who arrived via a playing and coaching career at the University of North Dakota, also had a knack for hiring brilliant young assistant coaches who served the Titans well before advancing in their careers. His legacy in the sport includes mentoring two NFL head coaches (Steve Mariucci and Tom Cable) and numerous NFL and major college coordinators and assistants.
Murphy was popular with the media for both his candor and good humor. He had great rapport with the Fullerton and Orange County communities and developed long-lasting support groups. He also had his own unique vocabulary, creating nicknames for almost everyone, and still maintains close ties with friends all over America and Canada.
Murphy also was popular with his players on a personal level, showing true concern for their extended families and children. After the Titans' program was suspended, he became head coach at Fullerton College in 1993 and continued in that role through his recent retirement.
For more information on attending this year's Titan Tribute – Titan Athletics Hall of Fame induction ceremony, call 657-278-3480 or visit www.fullerton.edu/titantribute.