All Aboard!
Two More Days to Contribute to the Titan Toy Train
December 3, 2009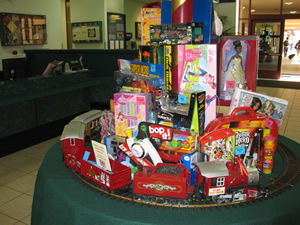 A table set up in the lobby of the Titan Student Union displays toys that will be donated to needy children.
Only two more days to contribute a free unwrapped gift for needy 7- to 14-year-old children through the annual Titan Toy Drive in the lobby of the Titan Student Union.
This year, the Student-Athlete Advisory Committee joined Associated Students in the effort. As a part of its community outreach, the SAAC is asking each Titan student-athlete to take at least one name from the Titan toy train display and donate an age-appropriate toy.
Campus and community members also may participate. Donors are asked to bring unwrapped toys with the name tags attached to the TSU information and Services desk by Dec. 10. For more information, call 657-278-2468.