Supporting Future Leaders
Business Alumni Help Continue Tutoring Program
December 1, 2009
By Pamela McLaren
When cuts in state funding threatened to severely limit the hours and number of tutors of the College Tutoring Center in the state's largest business college, alumni, students and staff members came to the rescue.
The students who benefit are grateful.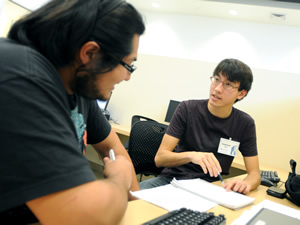 David Romero left, receives tutoring assistance from Brenden Gaglia in the College Tutoring Center. Photo by Kelly Lacefield
"The College Tutoring Center has really helped me," said Crystal Smith, who has been using the College Tutoring Center in Mihaylo College of Business and Economics for assistance in economics. "The tutors are patient and explain everything until I understand. I also really like the fact that all the tutors are willing to help one another. When I leave the center, I feel as though I understand everything about microeconomics. They gave me the 'click' I was missing."
Bhavina Shah has similar sentiments.
"I have been coming to the tutoring center regularly and so far it has been a lifesaver for me," she said. "I can say very confidently that the Tutoring Center is playing a big part in my grades."
Smith and Shah are among those making more than 3,000 student appointments annually for assistance in all areas of business.
Because of the state budget cuts to the California State University and the Fullerton campus, the College Tutoring Center was on the verge of closing.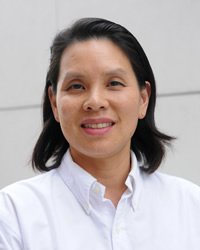 Emeline Yong, assistant dean of student affairs in Mihaylo College of Business and Economics, oversees the College Tutoring Center. Photo by Kelly Lacefield
"We had to be really creative to keep the center running," said Emeline Yong, assistant dean of student affairs in the college. One of her responsibilities is overseeing the center. "We were able to use some private funding that had been designated specifically for this center."
What also helped the center was the support of the honors accounting society, Beta Alpha Psi. The organization has a community service component, and its members volunteered to help their fellow students through tutoring. Brenden Gaglia, chair for tutoring for BAP, worked with Yong to coordinate the volunteers' service at the center.
"With the help of Brenden, we've been able to accommodate accounting tutoring through the honor society," Yong said.
On a one-on-one level, Gaglia has been providing twice-a-week tutoring to Desiree Galton, a student in the Guardian Scholars Program. "Along with many lifelong struggles, math has always been a difficult subject for me. After being set up with the tutoring center's best tutor, Brenden, I began understanding statistics better and better, allowing me to pass tests and complete difficult homework assignments," said Galton.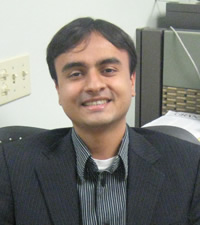 Graduate student Parth Bhatt says he tutors because he is passionate about teaching and learning economics. "I always wanted to help the system that has helped me so much."
Accounting major Anthony Kress, president of Gamma Iota Sigma and a member of Beta Alpha Psi, said he enjoys tutoring and helping others learn accounting.
"I really like working with the students who come in because they are really great people and smart students," Kress said. "I love being in the tutoring center because it is a peaceful learning environment and it gives me a chance to network with my peers."
There are other volunteers too, like Parth Bhatt, who returned to his alma mater after earning a bachelor's degree in economics earlier this year.
"I am volunteering because I am really passionate about teaching and learning economics, particularly due to the fact that teaching helps me rethink my own understanding of the subject, and it helps me understand it more thoroughly," said Bhatt, who works with three to four students every week. "As an undergraduate, Cal State Fullerton helped me tremendously in expanding my learning beyond just academics.
"I always wanted to help the system that has helped me so much. So, I decided to volunteer a few hours every week as a graduate student," he added. "In a time like this, where the tutoring center is facing financial difficulties, I think this is a win-win situation."
In addition to volunteer tutors, Yong has developed group vs. one-on-one sessions and more walk-in tutoring is accommodated.
"We're making the most of the funds that we have received and are hoping that others will contribute to the effort," said Yong. "This program helps both those who need the tutoring, as well as the volunteer tutors, who are gaining not only leadership experience but knowledge in how to work with others in group settings — two important components to being successful in business."
"I would hope that the center would be open next semester with longer hours," said Shah. "That will help a lot more students like me."
"The tutoring center really cares about their students and I will happily continue to take advantage of their services," Galton added. "Emeline Yong always greets me with a smile and knows me by name, which makes me feel very good. She is always smiling and asks me how tutoring is going. I recommend the tutoring center to my classmates as well and they say the same things I do about it."
The Mihaylo College of Business and Economics' College Tutoring Center is located in Room 2404, in the west pavilion of Steven G. Mihaylo Hall. House are 11:30 a.m. to 5 p.m. Tuesdays through Thursdays. For more information, go to the College Tutoring Center website or call mcbetutoring@fullerton.edu.
For more information about contributing to the center, call Yong at 657-278-4577 or eyong@fullerton.edu.