Shaping Student Leaders
University Program Ties Classroom Learning to Leadership Education
June 23, 2009
By Debra Cano Ramos
Raymond Austin Nation started a nursing club for students at Cal State Fullerton, founded a local Christian ministry for single men and women and serves on the board of a community theater guild and national nursing association.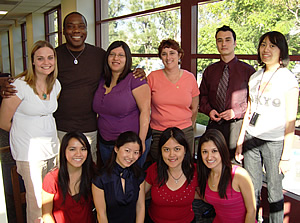 Top row, from left: Holly Harmon, program coordinator of the Student Leadership Institute, with student participants Raymond Austin Nation, Monique Cardenas, Charlene Riley, Anthony Kress and Holly Nguyen. Bottom row, from left: Jenny Le, Kini Shyu, Mars Dela Pena and Tiffanie Campos.
While these are just a handful of his campus and community activities, Nation credits the university's Student Leadership Institute for giving him the tools to be a better student and civic leader.
"Because of what I gained in the Student Leadership Institute, I now feel more confident and comfortable in stepping up and challenging myself in a number of different situations when a leader is called for," said Nation, who completed the institute's Public Service and Nonprofit Leadership training.
Founded on campus in 1991, the Student Leadership Institute, under the Dean of Students Office, Leadership and Multicultural Development Programs, provides students the opportunity to learn and hone leadership skills.
Offered at no cost to participants, the program has provided leadership training to more than 6,000 students over the last 18 years.
Many of the students who go through the program get involved in leadership roles on campus and in the community, and eventually, in their careers.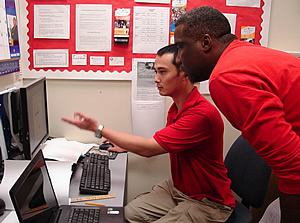 Anthony Kress, seated, and Raymond Austin Nation completed the Student Leadership Institute program in May and earned leadership certificates.
Funding Needed
Since 2004, the program has been partially funded with a U.S. Department of Education Title V grant. The federal grant money has been used to increase leadership development opportunities for Latino students majoring in science, technology, engineering and math. In September, Title V funding, which pays for 85% of the program's costs, will end and new funding is being sought.
"We had the opportunity to access Title V funds because we are a Hispanic Serving Institution, and the grant money helped us to move forward and expand the leadership program for all students," said Kandy Mink Salas, dean of students. "Now, the grant is ending and we're actively looking at ways to find new funding for the program and to keep it at the high quality level it is today."
One reason why the program has flourished is because it is offered at no cost to students — and administrators want to keep it that way.
To offset program costs, plans include seeking new grants and establishing ties with Student Leadership Institute alumni to contribute, Mink Salas said.
In May, 151 students, including Nation, completed the program. Each academic year, about 300 students, representing all majors and class levels, enroll in the two-semester certificate program, which takes up to 30 hours to complete.
Some participants are student leaders, while others have little or no experience in leadership, said Holly Harmon, program coordinator.
"The Student Leadership Institute gives students the chance to connect their classroom work with leadership education," Harmon said. "The program provides students with opportunities to develop their leadership skills, and also helps them explore ways to serve as a leader."
Harmon oversees a 10-member student committee that helps to manage day-to-day operations. Senior Leezel Ramos, a speech communications major, is director of the 2009-10 coordinating committee.
Raising Awareness
The institute consists of three core workshops, plus participants choose a "track" or series of workshops, on a particular topic. Seven tracks are currently offered and focus on topics such as career leadership, cultural awareness, peer tutoring and social justice activism.
This fall, a new track, developed in collaboration with International Education & Exchange, will be offered. It focuses on global awareness and responsibility, said Juanita Razo, associate dean of students for Leadership & Multicultural Development Programs.
Contributing to the program's success are the volunteers who teach the workshops. University professors, administrators and staff, former institute participants and community and business members present the workshops, Razo said.
"Our presenters are at the core of our leadership training and we want to invite more alumni and community leaders to facilitate workshops in the future," she added.
Nation, who graduated in May with a bachelor's degree in nursing and was the recipient of several academic and service accolades, including the President's Associates Award, served as director of the institute's 2008-09 student-led coordinating committee. This fall, Nation will start his master's in nursing with a concentration in nursing leadership at Cal State Fullerton. He plans to facilitate institute workshops.
Giving Back
Under the program, students must perform at least five hours of campus or community leadership service for each track they plan to complete.
"The experiential component helps students realize that leadership is not only about obtaining knowledge, but about applying that knowledge and making a difference," Razo said.
For each leadership track completed, students receive a certificate of leadership, showing future employers that they are well prepared to be leaders in their jobs and communities, Harmon noted.
Benefits to students who participate in the program are numerous. They are exposed to specific topics, such as managing difficult people, learning different leadership styles and developing effective communication skills.
"Students also learn that leadership is not about position, but about taking action and practicing leadership in their everyday lives," Razo said.
Success
Last academic year, senior Anthony Kress served as the marketing coordinator and acknowledged that the experience helped him improve his leadership and management qualities.
Kress, a business administration major, serves as the student director of Volunteer Income Tax Assistance (VITA), an IRS-sponsored community program that provides tax assistance to low-income community members.
"Everything I learned in the Student Leadership Institute, I was able to apply directly and immediately to my position in VITA," said Kress who is studying accounting and finance and plans to earn his bachelor's degree in 2011.
Kress has ambitious career goals and plans to pursue an M.B.A., a law degree and certifications as a public account and financial planner.
"After going through the leadership program, I was surprised at how much I learned and how much it changed my attitude and my life," Kress added. "I have also been offered many leadership positions from the business clubs within my college after they had seen my work with the Student Leadership Institute and with VITA."
Nation, who also led the effort to reestablish the "SLI Club" so participants can practice and develop the skills they are taught in the workshops, agreed that the program is a valuable investment in students' future.
"I've learned skills that will have value in my personal and professional life for years to come," Nation said. "Students should participate in this program and use this opportunity to learn about leadership while in a safe academic setting," he said. "Inevitably, no matter what their major is, they will be put into some kind of leadership experience in their lifetime."