Retention Success
Student Diversity Program Helps Increase Graduation Rate
March 17, 2009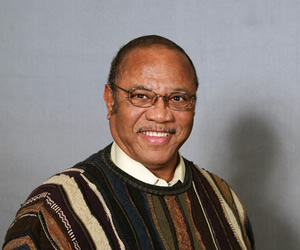 John Reid Jr.
Thanks to the efforts of Cal State Fullerton's Student Diversity Program, retention and graduation rates of students most at-risk of failing, has steadily increased over the past decade.
John Reid Jr., coordinator of the program, which was launched in 1994 under the name Black Ombudsman Program, said he founded it initially to deliver academic and social support to Black student athletes. It became the Student Diversity Program in 1996 to include a more diverse group of students at risk of disqualification.
To assess whether the program increased retention, Reid examined the graduation rates and grade point averages of students in four program cohorts from 1994 and 1995 and compared them to matched students, also at-risk of disqualification who were not in the program, over five years. What he found was that students in the program graduated at twice the rate of the comparable students after five years.
Download the report on the Student Diversity Program as a pdf.
The Student Diversity Program employs a service approach based on an extended family model in helping students achieve integrated academic and social success, thereby improving student retention and graduation. Program goals include:
Increase self-esteem.
Provide programs promoting life skills.
Adhere to standards improving academic and social integration.
Assist with the transition from college to the working world.