Theater in November
'Streetcar' and Fall Dance Theater Set to Begin
November 10, 2009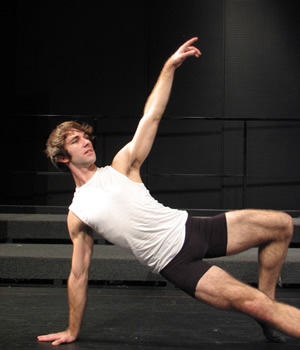 Brad Beakes from one of the dance pieces that will be performed during the Fall Dance Theatre Nov. 19 through Dec. 6.
Tennessee William's play "A Streetcar Named Desire" and the Fall Dance Theatre are two opportunities to see students on stage this month.
"Streetcar," under the direction of Kari Hayter, opens Nov. 13 in the Young Theatre, while the Fall Dance Theatre, coordinated by Gladys Kares, opens Nov. 19 in the Little Theatre of the Joseph A.W. Clayes III Performing Arts Center. Both productions continue through Dec. 6.
"Streetcar" is the story of Stanley and Stella Kowalski, a New Orleans couple whose life is changed with the arrival of Stella's sister, Blanche DuBois, a southern belle with a sordid past. As layers of lies and conceit are peeled away, William's charters do whatever they can to protect themselves and the ones they love.
The cast includes Brian Rickel as Stanley, Bethany Mangum as Blanche, Molly Stilliens as Stella, Jason Oles as Mitch, Donna Kane as Eunice and Tim Seabrooks as Steve. Also appearing are Jirard Khalil, Andy Babinski, Gasper Spinosa, Elizabeth Ramos, Amanda Baker and Chelsea Boyd.
Scenic design is by Fred Kinney, lighting by Ryan Swift Joyner, costume by Abel Zeballos, makeup by Lesly Ceballos and sound design by Tim Murphy.
The Fall Dance Theatre features eight dances choreographed by students, guest artists and dance faculty. Among the dance pieces, faculty member Robin Johnson will present "Hexentanz," a historical piece originally choreographed by a pioneer of modern dance, Mary Wigman.
Choreographers include London Outlaw, Cassie Cole, Monica Parra, Marie de La Palme, Mary Wigman, Carleigh Lipman, Katie Chilton, and Mike Esperanza. Rehearsal director for the Marie de La Palme piece is Muriel Joyce, and the rehearsal director for the Mary Wigman piece is Robin Johnson.
Lauren Browning is the scenic coordinator, Emily Mackey is the makeup and costume coordinator, and Susan Hallman is the lighting designer.
Tickets are available at the Joseph A.W. Clayes III Performing Arts Center box office, which is open from 11 a.m.-4 p.m. Mondays-Fridays and one hour prior to performance or online at www.fullerton.edu/arts/events. For more information, call 657-278-3371.