Bronze Welcome
Seated "Benefactor" Greets Visitors and Students to Mihaylo Hall
January 27, 2009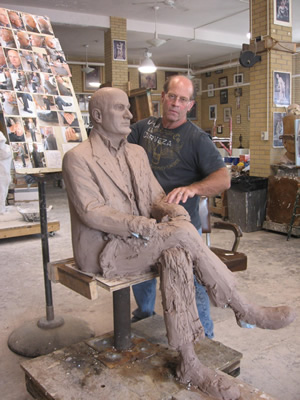 Ohio artist Alan Cottrill takes a break while creating the clay model of Steven G. Mihaylo used for the casting of the bronze statue. The artist met with Mihaylo last spring and snapped close-up photographs to help him sculpt.
Students sit by him, walk by him and sometimes pat his head.
But "he" doesn't mind. The sculpture of Steven G. Mihaylo sits on a bench within the courtyard as a friendly reminder of 1969 business alumnus who thought so much of his alma mater that he has given nearly $35 million to the institution which now bears his name as does its new home, Mihaylo Hall.
"We wanted to honor Steve for his life, his achievements — not only as an individual but as a major benefactor to the university and the college," said Marcia Harrison, director of development for Mihaylo College of Business and Economics.
The sculpture was created by Ohio artist Alan Cottrill and took roughly six months to complete. It was installed in Mihaylo Hall's courtyard for the October dedication of the building.
Like Mihaylo — who is the founder and retired CEO of Inter-Tel Inc., and the new CEO for iMergent — Cottrill has been an entrepreneur, having founded the Four Star Pizza franchise.
He became an avid art collector and painter but when he touched clay, Cottrill reports he said: "This is the mistress I've traveled the world in search of" and sold off his business interests to dedicate his time to sculpting. Cottrill has studied sculpture at the Art Student League and National Academy of Design, as well as anatomy at Columbia Medical Center.