Now on Stage
'Steel Magnolias' Reunites Pair
October 6, 2009
By Paula Selleck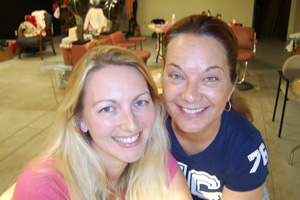 Magnolias Amie Bjorklund and Eve Himmelheber pause during rehearsals for their leading roles in "Steel Magnolias."
Eve Himmelheber has been told by colleagues that's she's looking more relaxed these days.
"Having an emotional breakdown four times a week will do that for you," she says with a laugh.
The assistant professor of theatre and dance is currently portraying the dramatic role of M'Lynn, Shelby's mother, in "Steel Magnolias," being staged through Oct. 11 at the Covina Center for the Performing Arts.
Most audience members are familiar with the 1989 movie of Robert Harling's biographic memoir of Southern womanhood that starred Sally Field, Shirley MacLaine, Dolly Parton and Julia Roberts. Himmelheber, however, has never seen the film.
"I came fresh to it; I had no idea what Sally Field had done with the role."
She views the play as one with six leads and the part of the daughter, Shelby, as "the principle element tying them all together."
Cal State Fullerton also ties together cast members Himmelheber (M.F.A. theater arts '95) and Amie Bjorklund, another CSUF alumna (B.F.A. theater arts-musical theater '00), who plays Shelby — Julia Roberts' role in the film.
While auditioning for parts in the same production was purely coincidence for the pair, being cast together was, perhaps, inevitable. When they read together, Himmelheber recalled, "the director saw incredible chemistry between us."
He didn't know at the time that the two had worked together once before on campus, but only briefly. Himmelheber had been called in by Jim Taulli, who was directing a campus production of "Pajama Game," to assist in working with the cast. Bjorklund played Babe, the female lead.
"It's been wonderful," said Bjorklund, of the experience of working again with Himmelheber. "She's brilliant; she's very open and easy to work with and funny and smart and all the things you would hope for in a co-worker."
In "Steel Magnolias," audiences are responding to the pair's chemistry. "You can hear them weeping, and you can hear them gasping, and that's very powerful" for an actor, said Himmelheber, who won the Kennedy Center/American College Theatre Festival Irene Ryan regional acting scholarship in 1994 during her student days.
At mid-point in the production's run, Himmelheber said, "It's going really well … the ensemble is becoming tighter as we work together. It's obvious the affection we have for one another, and the audiences are picking up on that."
She and Bjorklund spoke of sharing a high level of trust with each other and with other members of the close-knit cast.
For Himmelheber, performing on stage allows her to empathize with her students.
"The fact that students are putting themselves on the line every day spilling their guts … It's a very humbling experience to be back on this side of the apron," she said. "I remember what it's like to be learning, and I'm reminded what it's like to feel this heavy emotional level on a daily basis."
Himmelheber describes the character she is playing as "fierce; she's a lioness. She wants to open doors for her daughter, who has special needs based on her diabetes. She wants to offer her the world, and sometimes it's just too much because her daughter is independent."
In the role, she has bonded with Bjorklund as the two explore the nuances of their characters with each performance. Himmelheber also has tapped her own life's experience as a mother of a grown son — a Class of 2009 graduate in electrical engineering. "I've lived through that, and I know what it was like when he was being so stubborn," she recalled. "I've been through the smoke and seen what's on the other end ..."
Now in her sixth year on the Cal State Fullerton faculty, Himmelheber is coordinator of the musical theatre concentration in the B.F.A and M.F.A. programs in the Theatre and Dance Department, where she teaches acting, musical theater and directing. In addition, she directs one or two productions each year, as well as "The Preeminents," a song-and-dance troupe of students.
She readied the troupe for its one-night-only performance for the university's Sept. 11 "Concert Under the Stars," which also happened to be opening night for "Steel Magnolias," so she and her students were on stage at the same time — in different cities.
Before returning to her alma mater, Himmelheber taught at Cypress College, Iowa State University and the University of Arizona. Her acting resume spans Shakespeare to musical theater, and she has performed on stages throughout the region, most recently at Hollywood's El Portal Theatre in January in "A New Brain," as part of the New American Theater Festival.
"I've been so grateful," she added, reflecting on her experiences as a graduate student in the department where she now teaches and how she continues to draw on her CSUF training. "The technique that we are emphasizing here really works; it still works; even if you're a little rusty."
Bjorklund recalls being part of the first full graduating class in musical theatre. "It was cool to be at the start of something, and they've grown leaps and bounds in the last nine years. … It's a great school."
After graduation, she signed on as an entertainer with Royal Caribbean Cruise Lines, singing and dancing her way around the Mexican Riviera. Her next career stop was Los Angeles for work on stage and in independent films, then on to New York City, where she performed in a variety of small theaters, eventually returning to California to continue her stage work.
"My plan is to be able to sustain myself doing what I love," she said.
Bjorklund is now in rehearsals for the holiday season performances she does each year as a caroler with Mixed Company, which provides quartets for Disneyland and Knott's Berry Farm, as well as private parties and corporate luncheons.
Meanwhile, "Steel Magnolias," she said, "is definitely a reigniting of a realization of what I want to do."
Most performances of "Steel Magnolias" are Friday through Sunday, but a special show is scheduled for Thursday, Oct. 8, when discounted tickets will be available for students and educators. Those with student, faculty or staff IDs from any campus or school can land a $10 ticket at the box office, while supplies last. The Oct. 8 performance starts at 7:30 p.m. Other nights, the show begins at 8 p.m. and tickets are $34 each.
Himmelheber describes the newly renovated 99-seat theater at the Covina Center for the Performing Arts as a "jewel box of a theater … a drop of Heaven in the middle of Covina." It's located at 104 N. Curtis Ave., Covina. For more information, call 626-331-8133 or visit www.covinacenter.com.
Related Story: