Learning for His Life
Student Escapes War-Torn Sri Lanka, Wins Two Top University Awards
May 19, 2009
By Mimi Ko Cruz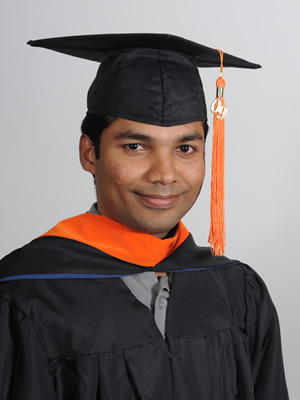 Sripathmanathan Srikailainathan
Sripathmanathan Srikailainathan ran with the rest of the villagers fleeing for their lives. On his left, shells rained down, blowing off body parts. On his right, more shells, more horror. He ran faster, his full bookbag slapping his back.
"I was 15," Srikailainathan said, recalling that day in 1995 when he had to run from his village in the Jaffna district, on the northern tip of Sri Lanka. "I was not sure I would make it out alive."
That was the second of three times he and his family managed to escape Sri Lanka's war zones. The first time, Srikailainathan was about 7. The third was in 1996, when helicopters were shooting down at them as they narrowly escaped.
"It was frightening," Srikailainathan said. "We lost everything, except my schoolbooks."
He said his parents, poor farmers, wanted a better life for their son, so they pushed him to study. That's why each time they fled, the books went with them. Clothes and other things weren't as important.
Sri Lanka, the island nation that gained independence from Britain in 1948, has been involved in a civil war for more than 25 years. Independent journalists have not been allowed into the country to report on the war.
Though the fighting often disrupted his schooling, Srikailainathan had his history, science, math and English books and he studied constantly.
In 1997, Srikailainathan was swept up with other young people and put in an internment camp, where they were interrogated for months. During that time, he suffered with high fever but kept studying. He was released days before the government's annual exams that determine whether students can pursue higher education.
Srikailainathan scored so high on the exams that he was selected to study at Royal College in Colombo with a government scholarship. He received his bachelor's degree in engineering in 2004 and worked for a telecommunications company for three years. With the money he saved from his job, he applied for graduate school at Cal State Fullerton.
Today, he is preparing to graduate with a master's degree in electrical engineering and will participate in commencement ceremonies May 23.
Along with his degree, the 29-year-old international student, who is living with relatives in Cerritos, will leave the campus the winner of two of the university's top graduate honors — the President's Associates Outstanding Graduate Award and the International Understanding Award.
He is hoping his parents will be granted a visa to come from Sri Lanka to watch him graduate. He wants to thank them for their sacrifices.
When times were terrible in Sri Lanka and Srikailainathan was depressed and grieving the loss of his friends and relatives who were tortured and killed, he said his parents would tell him: "You cannot lose hope, but the only way out is through education."
"My mother couldn't get an education higher than elementary school and my dad only has a junior high education," Srikailainathan said. "They couldn't have a good, prosperous life but they wanted me to have one. My whole community encouraged me to study so I could have a good life."
Srikailainathan, who has a 3.97 grade point average, has served as a volunteer tutor to undergraduate math and engineering majors and has participated in food and clothing drives for the needy in Orange County. As an undergrad in Sri Lanka, he served as a mentor to youngsters, passing on to them words and encouragement he received from his parents.
"Knowledge is power," said Srikailainathan, who plans to pursue a doctorate in engineering. "That is the dictum that has governed me since childhood. Education is the answer. I got a lot of opportunities and my ultimate goal is to give back, teach what I've learned."
Photos are available online at www.fullerton.edu/newsphotos.