No Dream Beyond My Reach
Alum Recounts Journey From "Killing Fields" to Saving Lives
September 1, 2009
By Valerie Orleans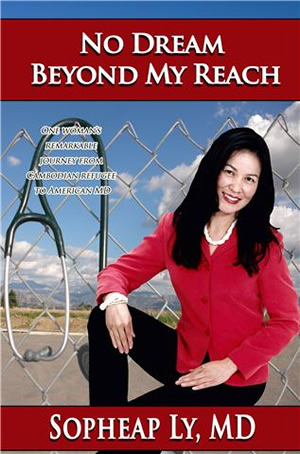 Sopheap Ly's book, No Dream Beyond My Reach
When Sopheap Ly was five years old, she and her family were taken from their comfortable home in Phnom Penh, the capital of Cambodia, to the "killing fields." During the brutal Khmer Rouge regime from 1975-79, at least 200,000 people were executed in the Cambodian killing fields of the estimated 1.5 million people who perished at the hands of the Khmer Rouge — roughly one-fifth of the country's population.
"My father was a professor so that was enough to mark my family as enemies of the Khmer Rouge," said Ly, a 1997 B.A. in biological science graduate. "I spent four years working in the rice fields — 14 hours a day, seven days a week — while members of my family starved or were systematically executed."
During that time, Ly and her family, despite their hard work, had little food, little shelter and no freedom.
"You had to watch everything you said or did," she recalled. "We were constantly watched. There was a saying, 'the walls have ears.' The hardest thing was knowing that you could be killed at any time for any reason."
Her father and a beloved uncle were brutally executed while Ly, her mother and sister were sent to the fields.
When the reign of the Khmer Rouge ended, the surviving Ly family members returned to Phnom Penh but had to make do with 21 people living in one room. (Their former home had been destroyed.) She eventually made it to a refugee camp in Thailand and, at age 16, arrived in America.
"Throughout my years as a child slave and in the refugee camp, my goal was to move to America or Europe," she said. "I wanted to be a doctor — that was my father's wish as well — and I knew that dream was possible here."
Her family settled in Santa Ana where Ly attended Santa Ana High School.
"I was behind in American history class because I had gone for many years without school," she said. "But I am very determined. Math was easy for me so I focused on that. By the time I graduated from high school, I was an honors student and had taken algebra, trigonometry and calculus."
She then applied to Cal State Fullerton with the goal of earning a degree in biological science and being accepted to medical school.
"While I was in high school, I worked part-time as an assistant in a doctor's office," she said. "I met a nurse in the refugee camp in Thailand when I was young and sick. I had a tonsillectomy and the nurse was very kind to me. That experience made me want to become a doctor so I could also help people."
At Cal State Fullerton, she focused on science … and found help from her professors: David R. Fromson emeritus associate dean of the College of Natural Science and Mathematics and professor of biological science; Gene A. Hiegel, emeritus professor of chemistry and biochemistry; Maria C. Linder and Christopher R. Meyer, professors of chemistry and biochemistry.
"I was among those in the first class that Dr. Meyer taught, when he was fresh out of the University of Michigan," she recalled.
"The professors really took an interest in me and my classmates, and spent a great deal of time helping me," she said. "They also recommended a program — the health professions advising office — that focuses on students who want to go on to medical school. That program was a great help.
"I can remember Dr. Hiegel staying late to help me and the others," she said. "He liked to challenge his students and would often give extra work to those of us who wanted it. He would spend many, many hours helping me."
In the health professions program, Ly found other students who wanted to become medical doctors.
"We motivated each other," she said. "We were all in the same boat, taking out student loans, studying all the time and waiting to get into medical school."
Through hard work and determination, and with the help of many of her classmates, professors and advisers, Ly graduated and was accepted to Howard Medical School in Washington, D.C. In 2001, she received her doctoral degree to practice medicine.
Today, Ly works as a board-certified internist at the VA San Diego Healthcare System. She is married and the mother of twin daughters. In fact, she met her future husband in her organic chemistry class at Cal State Fullerton. And she recently published a memoir, "No Dream Beyond My Reach," to encourage others to work toward their goals.
"I want my life to serve as an example," she said. "I decided that I couldn't let the killing field experiences affect my level of achievement. I owe my gratitude to many people in America who have helped me achieve my dreams. This country has given me so much and I am so grateful to all the friends, educators, advisers and mentors who have inspired me.
"My goal is to inspire others with the determination to succeed despite all odds," she noted. "I believe that education is the purest form of international currency that can be used to purchase your success. It can be utilized anywhere in the world. It is always ready for you and can open many closed doors. When you need it most, it is there for you and that is what makes it closest to my heart.
"I tell the people I meet that it doesn't matter where you start …. What matters is where you end up. Opportunities come and go and it's your job to take advantage of those opportunities when they appear."
For more information on Sopheap Ly, you can visit her website at www.nodreambeyondmyreach.com.