Dog's Best Friend
Engineering Students Design "Smart, Green" Dog House
April 14, 2009
By Russ L. Hudson
This May, the fate of four graduating computer engineering seniors will depend on a dog house.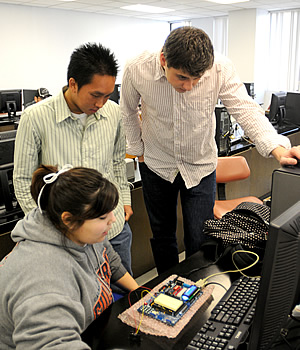 Students Julie Acosta, sitting, Thew Chieng and Ian Steed, right, work on the control panel for their dog house as part of their Senior Project. Photo by Kelly Lacefield
Engineering students must complete a senior project to graduate, and last September, Julie Acosta, Thew Chieng, Kenneth Ly and Ian Steed took on the design and outfitting of a solar-powered "smart" dog house.
A solar panel charges the marine battery that powers the house's "smart" features, including the notebook computer controlling the automated feeding, motion, audio and visual monitoring and the heating/cooling systems that can raise or lower the temperature as much as 15 degrees as the season requires. Systems are programmed to power down when Rover pushes out the swinging door and restart on his return. A fully charged battery can run all functions for several days if there is heavy cloud cover.
All functions can be controlled remotely via text message or e-mail. The house is off the electrical grid, creates no emissions and the battery and electrical circuits will be recycled when they wear out.
Although their work sessions are at once lively and intense, this is no lark. The house must be done on time, within budget and be fully functional. "A project like this puts students through their paces, forcing them to look at all aspects of engineering, not just design," said the team's adviser, Kiran George, assistant professor of computer engineering.
The team will need all the knowledge they gained in the classroom and more. Project design and production is a complex process in which seniors must juggle industry standards, constraints, ethics, code compliance, cost effectiveness and production tolerances.
The four seniors began their research and planning last fall. By the end of December, their efforts had earned them approval of their proposal, and a Department of Computer Engineering grant for $1,000, just $100 shy of their approved budget. In January, the hard work began.
Challenges abounded, said Acosta, the team leader. The pressure sensor that was supposed to detect when the dog was eating and meter the food supply didn't work. "We considered an ultrasonic sensor, but feared it would bother the dog, so we went with infrared sensors that could detect when the food moved in the bowl."
Motion sensors were another obstacle, Steed said. "The ones we originally purchased weren't very effective in powering down the house systems when the dog left. So we salvaged three sensors that measure distance in a straight line that could be integrated to detect motion — the presence of an object and its size — all good information for controlling functions."
Owners can use the webcam and microphone to monitor dog safety and behavior. The appliances, microcontrollers and servomechanisms all run on small voltages for the purposes of energy conservation and fire prevention. The computer and battery are in weatherproof compartments separate from the house and all cables are shielded and weatherproof.
Although the marketability of senior projects is not a priority, the team elected to include it in their proposal. "We chose a product for the average consumer because we find it much more enjoyable to work on something that anybody can use and is a 'total solution' rather than a cog in a more complex system," said Steed.
With that in mind, Acosta said, the team programmed some consumer "options" in the final design, including an intercom, automatic door, fire-suppression system and a remotely triggered training collar to curb canine misbehavior.
The students' design solution utilized modular appliances and electronics that ship separately and install easily, making it easy to retrofit almost any dog house.
George's enthusiasm for the project shows. He is encouraging the students to approach pet stores about the "smart house," adding, "I already told them I want one for my dog, Charlie, when they're for sale."