Showcase for Zap Comix Pioneer and Other Artists
'R. Crumb's Underground,' 'Erase Stigma' Now on View at Grand Central
July 14, 2009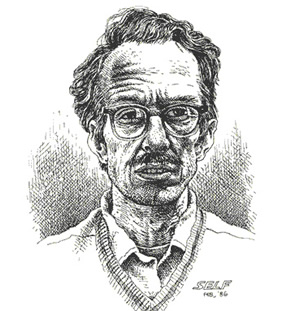 Robert Crumb self-portrait
Grand Central Art Center has become the only Southern California venue to exhibit "R.Crumb's Underground." The traveling exhibition was organized by Yerba Buena Center for the Arts in San Francisco and is curated by Todd Hignite, founder of Comic Art Magazine.
"R.Crumb's Underground" salutes local San Francisco comic artist Robert Crumb with an eclectic exhibit of early work, collaborations old and new and the world premiere of his "spool" drawings. The show runs through Aug. 16.
"Robert Crumb is the quintessential underground artist," explains Hignite. "His masterfully rendered comics and sketchbook drawings of the last 40 years, markedly lacking in concession or self-censorship, offer a profound cultural critique filtered through demanding psychological self-reflection. Crumb's art, which pioneered the transformation of comics into an adult literary form, addresses a plethora of personal and political themes within a multidimensional narrative framework."
Beginning his artistic career in the 1960s, Crumb is acknowledged as the founder of the underground comic scene. He gained cult popularity for pioneering Zap Comix and creating such characters as "Fritz the Cat" and "Mr. Natural." In 1994, he was showcased in the Terry Zwigoff video documentary "Crumb."
Extending far beyond comics, the YBCA traveling exhibit demonstrates how his work has grown in philosophical complexity and highlights his collaborative art work, including recent work produced with wife, Aline Kominsky-Crumb.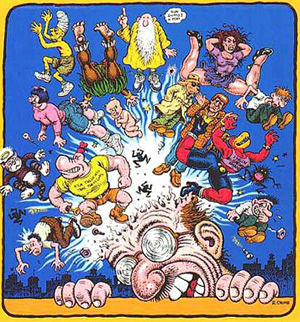 An artistic rendition of Robert Crumb's portrait.
Also on Exhibit
Continuing through Aug. 23 is "Erase Stigma: A Mental Health Awareness Arts Festival and Exhibition" in the Rental and Sales Gallery of the Grand Central Art Center. The show features the work of Janice DeLook, the center's 37th artist in residence, and the creations of 11 other professional artists who have had experience with various forms of mental illness.
Partially funded by the Mental Health Services Act and the Orange County Behavioral Health Services, this collaboration with the communities of Orange County features a gallery exhibition, as well as art workshops, writing seminars, plays, movie screenings and music performances to raise awareness about stigmas associated with the mental health community.
There also is a dramatic narrative, "Third Tree on the Left," directed by Don Laffoon of Stop-Gap Theatre, in the Grand Central Theatre. The free performances will be held at 5:30 p.m. July 18; 2 and 5 p.m. July 25, 1:30 p.m. July 28 and 5 and 7:30 p.m. on Aug. 1.
Grand Central Art Center is located at 125 N. Broadway, Santa Ana. It is open 11 a.m.-4 p.m. Tuesdays through Thursdays and Sundays, as well as 11 a.m. to 7 p.m. Fridays and Saturdays. For more information, call 714-567-7233 or visit www.grandcentralartcenter.com.