Teaching Commitment Honored
Communications Dean Rick Pullen Receives Press Club Award
August 4, 2009
By Valerie Orleans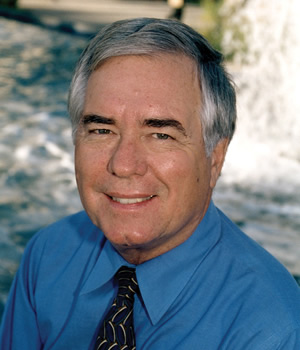 Rick Pullen
The Orange County Press Club honored Rick Pullen, dean of the College of Communications at Cal State Fullerton, with the prestigious Sky Dunlap Award during its July 30 annual gala.
The award's namesake, Sky Dunlap (who earned his nickname because he was so tall), was an Orange County journalist who volunteered his time to teach student journalists and encourage civic engagement. For that reason, the award is presented to a journalist or an individual with a background in journalism who demonstrates that same commitment.
"Dean Pullen embodies the values of Sky Dunlap," said Jeffrey H. Brody, CSUF professor of communications who serves on the press club board. "Dr. Pullen was an obvious and unanimous choice of the board."
Pullen, of Yorba Linda, earned his doctorate in journalism at Southern Illinois University, Carbondale, and arrived at Cal State Fullerton in 1973. His first assignments included advising the staff of the Daily Titan and teaching media law. Over the years, he served in various administrative roles until he was appointed dean of the college in 1995.
"Journalism has been a big part of my life and, of course, my career," said Pullen. "Over the years, I've found my involvement in journalism to be rewarding and challenging."
Pullen served on the Board of the California First Amendment Coalition for seven years. The nonprofit, public interest organization advocates for freedom of speech and increased public access to government at all levels. He also served on the ethics committee of the Society of Professional Journalists for four years. Last year, Pullen was honored by his undergraduate alma mater, Linfield College in Oregon, as the Distinguished Alumnus of the Year.
"I am honored to be recognized by the Orange County Press Club for lifetime achievement in journalism," Pullen said. "Sky Dunlap was greatly respected for his commitment to journalism and I'm pleased to receive this award named in his honor."