Prize for Pullen
College of Communications Dean Honored as Distinguished Alumnus
January 13, 2009
By Valerie Orleans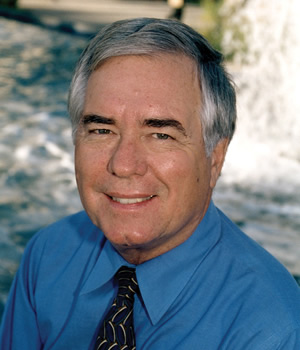 Rick Pullen
Rick Pullen, dean of Cal State Fullerton's College of Communications, recently was named the 2008 Linfield College Distinguished Alumnus.
Pullen enrolled in the Oregon-based college in 1963 and earned a bachelor's degree in journalism in 1967 and a master's degree in education a year later.
While a student at Linfield, he covered sports for the Linfield Review and assisted with the sports section of the Oak Leaves yearbook. During his junior year, Pullen served as editor of the Linfield Review and sports editor of Oak Leaves. He also worked as sports information director during his junior and senior years and while he was pursuing his master's degree.
Pullen earned his doctorate in journalism at Southern Illinois University, Carbondale, and arrived at Cal State Fullerton in 1973. His first assignments included advising the staff of the Daily Titan and teaching media law. Over the years, he served in various administrative roles until he was appointed dean of the college in 1995.
"Journalism and communication have been extremely exciting, challenging and rewarding for me over the years," Pullen said. "I've been involved at many levels and have been active in many social and academic organizations that focus on journalism and the media.
"Patterns of usage have changed drastically over the past decade, and we in communications must recognize and adjust to those changes while continuing to emphasize the basics of communication. It is truly amazing how communications has evolved."