More Children in Poverty
Annual Conditions of Children Forum Nov. 19
November 17, 2009
By Mimi Ko Cruz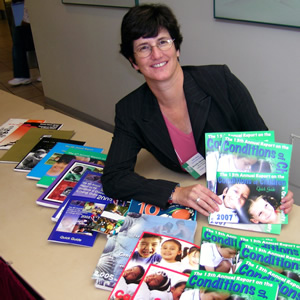 Michelle Berelowitz
An increasing number of children are living in poverty, according to the 15th annual Report on the Conditions of Children in Orange County.
As the economy continues to take a downturn, children and their families are feeling the effects, said Michelle Berelowitz, director of the Center for Community Collaboration. The center and the Orangewood Children's Foundation produced the report, which is sponsored by the County of Orange and the Children and Families Commission of Orange County.
"There has been a troubling increase of children qualifying for free or reduced-price school lunches and becoming homeless," Berelowitz said.
The economic impact on children is part of the Report on the Conditions of Children that will be discussed Thursday, Nov. 19, at the 8th annual Community Forum. The 8:30 a.m.-noon program will be held in the Titan Student Union. About 500 educators, community leaders and representatives of human service groups and law enforcement agencies are expected to participate in the forum.
The report is filled with statistics on the health, economic status, safety and education of Orange County's children. It is used by agencies throughout the county to help determine what can be done to improve children's lives.
The purpose of the forum and the report is to raise awareness about the condition of the county's children and to encourage discussions of ways to improve the situation.
"It helps child advocates and service providers prioritize services, set benchmarks for improvement and track the well-being of children over time to see if their efforts are making a difference," Berelowitz said.
This year's 204-page report finds the number of children who qualify for free and reduced-price school lunches totaled 211,179, or 43 percent of Orange County's total public school enrollment in 2008-09. That's a 6 percent increase since 2000-01.
Child abuse reports increased 11.1 percent from 37,015 in 2004 to 41,119 in 2008.
The number of juvenile arrests has been increasing since 2005, when the number was 13,033. There were 15,015 arrests in 2007.
Gang membership is increasing. In 2008, there were 1,896 known gang members, ages 8 through 17, a 35.6 percent increase from 1,398 known gang youths in 1999.
Berelowitz' Powerpoint presentation is available for download.
Berelowitz will provide an overview of the report at the forum. Other speakers will include Orange County Supervisor Janet Nguyen; William Steiner, chair of the Orange County Juvenile Justice Commission; Susan Caumiant, director of marketing for Orange County United Way; Dean Baker, professor of medicine at UC Irvine; Mary Coggins, outreach and engagement coordinator for the National Children's Study, Orange County Vanguard Center; and Eric Handler, an Orange County health officer.
Additional information is available from the Center for Community Collaboration at 657-278-5681. To attend the free forum, register online.