Leadership for Life
Retired General Speaks on Importance of Recognizing Veterans
November 10, 2009
By Mimi Ko Cruz
When Ricardo S. Sanchez was a boy, he decided he wanted to be a soldier. He joined the junior Reserve Officer Training Corp when he turned 16.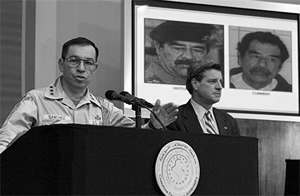 Retired Lt. Gen. Ricardo S. Sanchez, left, answers questions about Saddam Husssein's capture at a press conference with L. Paul Bremer III, the chief civilian administrator of the American occupation of Iraq on Dec. 14, 2003.
Today, more than four decades later, the retired Army lieutenant general, shares his story of growing up in one of America's poorest towns — in Starr County, Texas — to becoming the commander of coalition forces in Iraq who captured Saddam Hussein.
Sanchez, who retired in 2006 after being replaced in Iraq after the Abu Ghraib prisoner abuse scandal, spent last week speaking in Orange County. He delivered talks to Cal State Fullerton students, veterans and the university's ROTC cadets on Nov. 5 and was the keynote speaker at the 13th annual Latino Advocates for Education Veterans Celebration Nov. 7.
Sanchez was the highest-ranking Latino in the U.S. Army when he retired in 2006, after 33 years of active military service. He has a bachelor's degree in mathematics from Texas A & I University and a master's degree in research and systems analysis from the Naval Postgraduate School.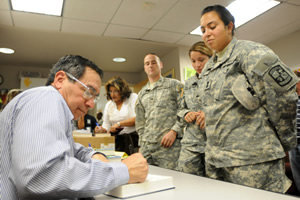 Retired Lt. Gen. Ricardo S. Sanchez signs his book, "Wiser in Battle: A Soldier's Story," for Cal State Fullerton ROTC cadet Jessica Villanueva. Photo by Kelly Lacefield
Sanchez's memoir, "Wiser in Battle: A Soldier's Story," published last year by HarperCollins, presents his critique of the Iraq War, including his account of Abu Ghraib.
"The sad saga of Abu Ghraib encapsulates the essence of America's failure in Iraq," he noted. "I refused to sweep Abu Ghraib under the carpet. I still refuse to do so. It remains the personal undertow of my story."
Sanchez offered advice and answered questions about war and military service in difficult situations for students who are preparing to be deployed as second lieutenants.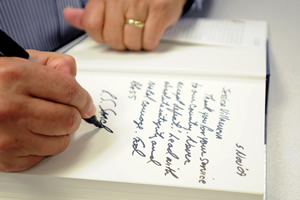 Lt. Gen. Ricardo S. Sanchez thanks ROTC cadet Jessica Villanueva for her service to the nation in his book inscription. Photo by Kelly Lacefield
"Never leave your moral high ground," he said, stressing that officers The should "always do the right thing."
"If it isn't right, don't do it," Sanchez advised. "If it isn't true, don't say it. Be willing to stand any amount of heat that will come at you for doing what is right. You can't falter. You're likely to suffer scathing reviews, but you cannot compromise your integrity…. And, love your soldiers."
Leadership is about "values, common sense and taking care of people," he said, adding that the keys to success are: never compromising your honor and having "absolute integrity."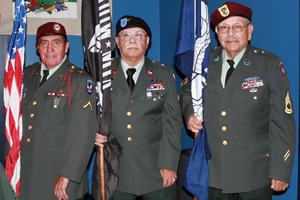 From left: Army veterans Private 1st Class Tony Sandoval, Cpl. Alex Bravo and Sgt. 1st Class Jack Calderon. Photo by Mimi Ko Cruz
Sanchez, who said he encountered racial bias in the military as a young officer, recalled a clash with his superiors when he refused to deploy soldiers to Iraq because he felt they needed more training. He argued that he did not want to send his soldiers into harm's way unprepared and was given an extra month for additional training.
The San Antonio resident said he donates his time, speaking at schools across the country and also works as a consultant, helping companies figure out ways to employ soldiers and veterans, whose skills in the military are valuable in civilian jobs.
During the Veterans Celebration Saturday, President Milton A. Gordon praised Sanchez and the scores of veterans who attended the event.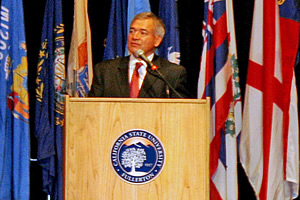 Orange County Superior Court Judge Frederick P. Aguirre, president of Latino Advocates for Education, speaks at the 13th annual veterans celebration at Cal State Fullerton. Photo by Mimi Ko Cruz
"The veterans we honor today unselfishly placed their lives on the line for our freedom," Gordon said. "Freedom does not come cheaply. Freedom is the most prized item on earth. There is always someone or some force that waits to take it away from us if we are not vigilant. What is unique and marvelous is the fact that, since the founding of our nation, the United States of America has never lacked for individuals who are willing to come forth when the need arises to pay that price with their honor, their devotion, and, when necessary, their lives."
Orange County Superior Court Judge Frederick P. Aguirre, president of Latino Advocates for Education, added that the event this year paid special tribute to Mexican American veterans for their service in Iraq and Afghanistan.
For the last thirteen years, Aguirre said, "our organization, in association with Cal State Fullerton, has saluted our Mexican American veterans. We do not glorify war or promote militaristic solutions to our nation's international affairs. We do not advocate that all Latino youth join our military forces. We are, however, justifiably proud of our veterans and of our patriotic heritage here in the United States."
Korean War veteran Cpl. Jesus Rodriguez leads the color guard at a special veterans celebration Nov. 7. Photo by Mimi Ko Cruz
He said Latinos have served in every war since the American Revolution.
"In the Civil War, more than 10,000 Latinos loyally served in both Union and Confederate forces," Aguirre said. "The first admiral of our Navy, Admiral David G. Farragut, who was commissioned by President Lincoln, was Latino."
Thousands of Latinos fought in World War I and more than 500,000 Latinos fought in World War II, he said, adding that more than 170,000 Latinos served in the Vietnam War, 85,000 Latinos served in Operation Enduring Freedom and Operation Iraqi Freedom, and as of last month, 198,080 (10 percent) of the troops in Iraq and Afghanistan are Latino.
"It is therefore fitting that we document the patriotism of our Mexican American men and women and recognize them for their courage and sacrifice," he said.
More information about Latino Advocates for Education is available at their website.