Making a Difference
Campus Students Improve the Lives of Homeless Children
December 22, 2009
By Debra Cano Ramos
Mariah Robertson
Age: 21
Major: political science with a minor in history
Expected graduation: fall 2010
City of residence: Anaheim
Favorite book: "The Perks of Being a Wallflower" by Stephen Chbosky
Favorite movie: "The Wizard of Oz"
Favorite quote: "You must be the change you wish to see in the world" by Mahatma Gandhi
Hobbies or pastime: Listening to and playing music, making crafts
Teaching homeless children in Orange County the love of reading is a weekly commitment for a dedicated group of Cal State Fullerton students.
Working through the Volunteer & Service Center's outreach program Project Read, the volunteers focus on helping children and families living at Anaheim Interfaith Shelter.
On Monday evenings during the semester, they visit the shelter to help young residents with reading and homework.
But more than that, the students help boost the children's self-confidence and serve as mentors and role models, said Amy Mattern, Volunteer & Service Center coordinator.
"These students are passionate about making positive changes in their community," Mattern said. "They are committed volunteers who are making a profound difference in the life of a child by spending quality time reading books together and doing other fun activities to promote learning and success in school."
Shelter parents have lauded the Cal State Fullerton students' volunteer efforts, saying that not only do their children's reading skills improve, so does their attitude about the importance of getting an education, Mattern said.
Elia Rogers, standing from left, Ranjit Rajan and Edith Dorantes, seated at left, are among Cal State Fullerton students volunteering as mentors and tutors of young children at Anaheim Interfaith Shelter. Photo by Stephen Weissbart
Senior Mariah Robertson is among the corps of student volunteers working with the homeless children this fall.
"I love working with children, and I wanted to help out children in need," said Robertson, a Project Read director.
A student who wanted to give back to children in need founded Project Read on campus in 1997. Since then, dozens of Cal State Fullerton students have volunteered at the shelter, developing leadership skills and touching the lives of hundreds of children, Mattern said. This fall semester, 11 students volunteered with Project Read.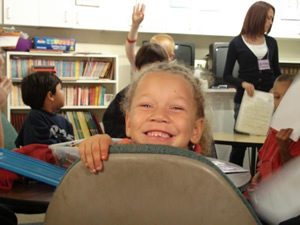 Student Brittney Poff, background, volunteers to serve as a mentor and tutor to homeless children.
Robertson, who is working toward earning a bachelor's degree in political science and plans to pursue a teaching credential, talks about her involvement to promote literacy and her desire to make a difference in the lives of homeless kids.
Why do you volunteer at the shelter?
I volunteer at the shelter because I love working with children. The kids we work with are all great kids, and I think it's extremely important to help those who are less fortunate.
What are some of the activities you and the other students do with the children?
Each Monday evening, the volunteers go to the shelter and help the kids with their homework for the week. We also have reading time where the kids and the volunteers pair up and read a book together. In addition, we have the children do some sort of activity relating to reading, and then we do a fun project as well.
These activities can range from writing a poem or story to making an animal out of pine cones. We also took the children on two field trips this semester. One was a visit to Cal State Fullerton and the other was to the Discovery Science Center in Santa Ana.
What do you and your peers personally get out of working with the children?
Working with the children is so much fun. It's great to get to know the kids and see them progress. Many of these kids have not had much stability in their lives. Through our dedication and by visiting the shelter regularly, we help to provide the children with some stability in their lives. We also develop a rapport with the children and get attached to the kids — and they become attached to us as well.
What do you hope the children learn from you and the other students?
With our visits to the shelter, we hope to instill a love of learning and reading in the children, and we try to promote higher education. We also hope that we can help the kids realize that they are all incredibly special and that all of them can grow up to be successful, productive adults in our society.
Why is it important for college students to help the homeless?
One common misconception is that homeless people are alcoholics or suffer from mental illness. What many don't realize is that anyone can become homeless, even you or me. In fact, in Orange County, families make up a majority of the homeless population. Project Read is a great opportunity for the volunteers to make a difference in a child's life and to let them know that they matter, and most importantly, that anything is possible with a good education.
Visit the Project Read website for more information or call 657-278-7623.