Gordon Takes College Message to Church
CSU Leaders Spend 'Super Sunday' in Communities Throughout Southern California
February 24, 2009
By Paula Selleck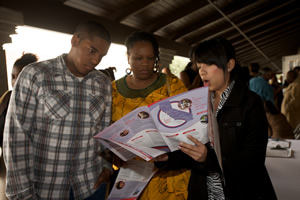 Outside the church, student Dora Hernandez, right, a senior majoring in communicative disorders, reviews college-preparation materials with Terez Henson and her son Ijau. Photos by Stephen Weissbart
President Milton A. Gordon addressed congregants Sunday, Feb. 22, at the Glory Christian Fellowship International Church in Carson, as part of a California State University statewide effort to encourage early planning for college and the involvement of community members as mentors for young people.
The CSU's fourth annual "Super Sunday" campaign began earlier this month in northern California, where dozens of CSU presidents, trustees and administrators fanned out to 41 churches serving largely African-American congregations.
"During the last four years, CSU Super Sundays have offered me the wonderful opportunity to visit Afro-American churches and encourage youth to go to college and graduate with a degree," said Gordon in his blog entry about the experience.
At Cal State Fullerton, the enrollment of black first-time freshman has risen by 26 percent since fall 2004. It has increased by 100 percent since fall 2000. This year, African- Americans constitute 5 percent of the 4,697-student first-time freshman class.
CSU leaders visited 27 churches in Southern California during the Feb. 22 event. Among them was Robert L. Palmer Jr., vice president for student affairs, who spoke at Long Beach Worship Center Community Church.
Following the services, outreach staff members and volunteers provided information about preparing for college and financial aid.
Joining Gordon at the Glory Christian Fellowship International Church were Delia Tijerina of University Outreach, Mireya Prado, a freshman theatre arts major, and student Dora Hernandez, a senior majoring in communicative disorders. They handed out materials and answered questions about the university.
It's a remarkable event," said Tijerina, who welcomes the connections made with prospective students and their family members, who ask: "What do I do for my nephew . . . or my granddaughter?"
"What's great is that it's so personal because you're almost in someone's living room. We're helping them know there's a path to college and what that path is."